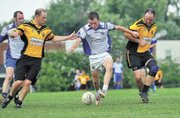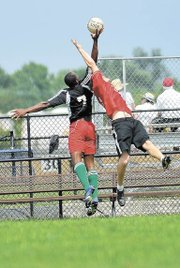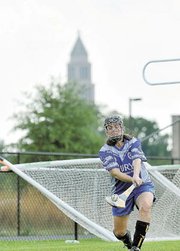 Philipos Melaku, 46, has worked for the Alexandria Parks and Recreation for 10 years now, but he witnessed a first within the makeshift wooden treehouse-like structure that serves as a scorer's table on the playing fields of George Washington Middle School this past Saturday.
He was working the scoreboard, keeping count as he had done for years supervising activities around the area, but on the grass in front of him there was no soccer or football game as the goalposts and net would suggest.
Instead there were men and women — some with Irish accents — passing, dribbling, and even kicking a ball that should have been on a volleyball court through those uprights. This was Gaelic football; all part of an afternoon filled with Gaelic games straight from the Irish motherland and transplanted to here in Alexandria.
"This is high action," said Melaku from his perch above the field as the D.C. Gaels girls' football team went against their counterparts from Baltimore. "It's definitely not what I was expecting, but it looks like fun."
MORE THAN 200 people showed up to George Washington Middle School to play or just watch what has become a fast growing sport for Alexandrian adults and children alike. When Jim Carmody first arrived in Alexandria from Kerry, Ireland in 1962, Gaelic games, and more notably Gaelic football, were a part of the innate Irish culture within the city.
But according to Carmody, immigration slowed during the 1970s and 1980s and the amount of people around the area playing the sport dropped precipitously. In 1988, though, Andrew Healy arrived in Alexandria looking for an "opportunity" to live the American dream like most transplants from abroad.
His perfect world, though, involved Gaelic football. Two decades later, there are nine Gaelic sport clubs around the area that comprise the Mid-Atlantic division, including the Michael Collins team based out of Alexandria that just came to frution in April and already has 50 members.
"There was no football here whatsoever" when Healy arrived. "Now there's no reason it can't take off." Teams compete to qualify for the national championships, which are scheduled for Labor Day weekend in Boston this year. The D.C. Gaels ladies' team are the defending champions.
On this day, there were several matches of Gaelic football, hurling (a game played with sticks and a ball akin to American field hockey, but shares scoring and terminology with Gaelic football), and camogie (the female version of hurling). In Gaelic football, a team gets one point for kicking the ball through the football uprights and three points for getting it past the goalkeeper and into the soccer net.
"Irish football is fast and furious, you use every part of your body, hands and feet," said Healy in his thick Irish accent.
"It's a combination of soccer and basketball because everybody can handle the ball and there's an awful lot of passing," said Carmody. "You can't run with it, you get four steps … you can't just catch and keep running."
<b>IN IRELAND</b>, the top Gaelic football players in the world will sometimes garner stadium crowds of more than 30,000 fans, but the sport remains strictly amateur even at the highest levels. Statistics show it outdraws even soccer as a spectator sport in Ireland. Healy thinks something to a lesser extent is possible here in the states since the sport is already popular in American cities with large Irish populations like New York, Chicago, and Boston.
Riley Moore, a 1999 West Potomac graduate, joined the Michael Collins team this past April after hearing about it when he was at Murphy's Pub, a Gaelic games sponsor, in Old Town. He grew up playing soccer, but soon realized he had found something unique. Now he practices two-three times a week at T.C. Williams High School with the rest of the team.
"There's a lot that goes into it," said Moore. "It's a lot more dynamic than any sport I've ever played. And it's not just for Irish-Americans, we've got a diverse group."
The key, though, to growing the sport is to get youth involved. This past Saturday, Bobby Mahoney, a member of the Michael Collins team held a youth clinic as part of the day's festivities. Fifteen children as young as four and five years old tried their luck at the sport. Watching from the sideline was Alexandria youth sports supervisor Mac Slover, who said he was in support of starting some youth programs through the city to "bring the sport forward."
"We would like to see this in the schools here and as a city sport and see this grow," said Mahoney. "It's kind of a secret, but I think it's about time to let it out."