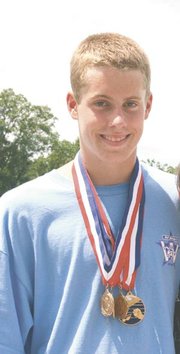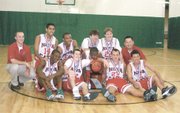 <b>DCCL All-Stars</b>
At the 2009 Dominion Country Club League All-Star meet, on July 25-26, Westwood Country Club's Matt Callahan, 17, led all swimmers by winning three gold medals and breaking two league records. Callahan broke the 15-18 boys' 50-meter breaststroke league record, which had stood since 1994. He also broke the league's 15-18 boys' 50-meter backstroke league record with a time of 27.66. Laura Kellan also won three gold medals while Audrey Kellan, Krissy O'Malley and Kayla O'Malley each won two gold medals for Westwood. Erin Callahan and Palmer Lloyd also took a gold medal. Westwood swimmers taking silver and/or bronze were: Natalie Brendsel, Monica Brendsel, Stephanie Brendsel, Tom Fenninger, Connor Barrand, Alex Baca, Zach Roeder and Alec Dolton. Other top six finalists were: Will Roeder, Peter Dolton, Jeremy Timblin, Grace Fisher, Victoria Tilson, Bohe Hosking, Andrew Baca, Allison Harwick, Nathan Paolozzi, Mallory Brodnik, Tristan Timblin, Molly Anspach, Ryan Stumvoll, Johnny Lockard and Craig Strasbourger.
The Hidden Creek Hurricanes finished off the season with several outstanding swims at the DCCL all-star meet as well. Sierra Jeter and Tiger Barbee once again led the way with first-place finishes in each of their individual events. Jeter took first place in the 11-12-year-old girls' 50-meter freestyle, 50 butterfly, and 100 individual medley. Barbee won the 13-14 boys' 50 free, 50 backstroke and 100 IM. Hidden Creek was also represented in the finals by Warren Breiseth, Ben Barbee, Carolyn Barbee, Grace Nalepka, Regan Glembocki and Kelly Dore.
<b>Runner-Up at AAU Tournament</b>
The 15-under Nova Cavaliers, a McLean/Falls Church based AAU Basketball team representing the Potomac Valley Region, recently finished runner-up at the Division III AAU Basketball National Championship at Boo Williams Sports Complex in Hampton, Va. The team, coached by Jerry Lin and Dan Reagan, was comprised of players from local high schools: Sango Amolo, Daniel Lewis, Kevin Lastova and Thomas Van Wazer from McLean; Tristan Evans from Langley; and Julio Matondo, JD Robinson and Sachin Gangele from Falls Church. Other players were Sean O'Rourke, Mike James and Eddie Kedda from Freedom South Riding High School.
The team finished pool play with a 3-0 record and earned the first seed in bracket play over Basketball Stars of America (Pittsburgh), Speed City Chargers (Woodside, Va.), and Aiken Warriors (South Carolina). The prelims featured a key win over the Aiken Warriors in the final game of pool play, where Thomas Van Wazer led the team with a 16-point, four-rebound performance.
In the semifinal round, the Cavs faced off against Team Venom from Virginia and held on for an emotional 42-38 win to advance to the National Championship game. All nine players scored in the victory.
In the championship game, the Cavaliers struggled early on against Kingdom Athletes from Greensboro, N.C. before losing, 59-49. Sango Amolo led the team by averaging 13 points per game in the tournament. Although the Cavaliers fell short of winning the national championship, they made the best run in the program's five-year history.
<b>NOVA Senior Olympics</b>
Registration for the 2009 Northern Virginia Senior Olympics is up 20 percent over last year at this time, according to Betsy Bailey, the event's registration chairman. More than 25 indoor and outdoor events are scheduled to take place Sept. 12-23 at various venues throughout Northern Virginia. The registration deadline is Aug. 28 and the registration fee has remained at $10. For more information, call 703-228-4721 or check the Web site at www.novaseniorolympics.com.