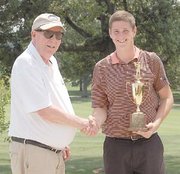 Although the dog days of summer aren't the best time for golf in these parts, some of the area's best junior golfers put up some mighty fine numbers at the 87th annual Bob Riley Junior Open Aug. 3-4. Belle Haven Country Club hosted the tournament, which is one of the oldest junior events in the country.
Arlington's Garrett Fitzgerald won the 16-18 division with the tournament's low score of 71-71 – 142. His 2-under par total bested runner up Timothy Gregg of Bethesda by seven strokes. "My swing just clicked in the past two months," the recent Gonzaga graduate said afterward. "Everything came together during a trip to Scotland to play golf, and since then, I've been playing really well." Fitzgerald will attend Boston College in the fall and hopes to make the golf team.
Mason Short of Waldorf, Md., won the 14-15 division with a two-day total of 73-72 – 145. Short, who isn't off the tee, won the 13 and under title in 2007 and now plays for St. Mary's Ryken High School.
In the 13 and under group, Alex Zakrzeski of Potomac, Md., won the title by two strokes over Arlington's Addison Coll. Zakrzesky shot 77-78 – 155, and Coll, a rising freshman at Gonzaga, posted a solid 74 on the second day.
The Riley Junior Open is named in honor of a long-time junior golf activist, Bob Riley, an Alexandria resident and member at Belle Haven. The tournament began in 1922 as the DC Junior, and then became the Junior Open in 1983 to allow all area juniors to enter. In 2004, the Washington Metropolitan Golf Association changed the name to honor Riley. He was the association's executive director from 1983 through 2003 and remains its director of junior golf. The Riley Junior Open is one of five highly competitive junior tournaments that WMGA sponsors each summer.
Riley's grandson Danny was in the 14-15 field, and his first round 71 set off some high-pressure expectations in the family. His second round 83 dashed his hopes, but that's golf, as many say. However, Danny and his father Tom won low gross honors in Belle Haven's annual adult-junior championship on Aug. 2.