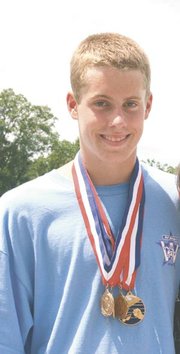 <b>DCCL All-Stars</b>
At the 2009 Dominion Country Club League All-Star meet, on July 25-26, Westwood Country Club's Matt Callahan, 17, led all swimmers by winning three gold medals and breaking two league records. Callahan broke the 15-18 boys' 50-meter breaststroke league record, which had stood since 1994. He also broke the league's 15-18 boys' 50-meter backstroke league record with a time of 27.66. Laura Kellan also won three gold medals while Audrey Kellan, Krissy O'Malley and Kayla O'Malley each won two gold medals for Westwood. Erin Callahan and Palmer Lloyd also took a gold medal. Westwood swimmers taking silver and/or bronze were: Natalie Brendsel, Monica Brendsel, Stephanie Brendsel, Tom Fenninger, Connor Barrand, Alex Baca, Zach Roeder and Alec Dolton. Other top six finalists were: Will Roeder, Peter Dolton, Jeremy Timblin, Grace Fisher, Victoria Tilson, Bohe Hosking, Andrew Baca, Allison Harwick, Nathan Paolozzi, Mallory Brodnik, Tristan Timblin, Molly Anspach, Ryan Stumvoll, Johnny Lockard and Craig Strasbourger.
The Hidden Creek Hurricanes finished off the season with several outstanding swims at the DCCL all-star meet as well. Sierra Jeter and Tiger Barbee once again led the way with first-place finishes in each of their individual events. Jeter took first place in the 11-12-year-old girls' 50-meter freestyle, 50 butterfly, and 100 individual medley. Barbee won the 13-14 boys' 50 free, 50 backstroke and 100 IM. Hidden Creek was also represented in the finals by Warren Breiseth, Ben Barbee, Carolyn Barbee, Grace Nalepka, Regan Glembocki and Kelly Dore.
<b>Youth Baseball Champions</b>
The Virginia Renegades 15U baseball team capped a great season this past weekend by winning the Cooperstown Baseball World 15U Championship in Cooperstown, N.Y. The Renegades beat the San Francisco Fog 3-0 behind a complete game, two-hit shutout from Nick Beaulac. The Renegades scored three runs in the first inning and shut out the Fog with steady defense. To win the championship, the Renegades beat teams from the Dominican Republic, Puerto Rico, Canada, New Hampshire, Pennsylvania and California.
The victory in Cooperstown was the fourth tournament championship for the Renegades this season, as the team also won the Mickie Gordon Memorial Day Tournament in Purcellville, Va., the Northern Virginia Travel Baseball League (NVTBL) JV Championship, and the Morgantown, W.Va. Marathon.
The Renegades are comprised of players from various local high schools, including South Lakes (Nick Beaulac, Ryan Forrest, Billy McLaughlin, AustinSchweppe); Oakton (Austin Lamon, RJ Garcia); Marshall (Kent Blackstone); Madison (Tommy Mulroney); Potomac Falls (Tyler Rice); Heritage (Mitchell Bowers); Parkview (Bobby Mason); O'Connell (Greg Krug); and Loudoun County (Devin Guthrie). The Renegades are coached by Joe Beaulac and Bob Lamon.
<b>NOVA Senior Olympics</b>
Registration for the 2009 Northern Virginia Senior Olympics is up 20 percent over last year at this time, according to Betsy Bailey, the event's registration chairman. More than 25 indoor and outdoor events are scheduled to take place Sept. 12-23 at various venues throughout Northern Virginia. The registration deadline is Aug. 28 and the registration fee has remained at $10. For more information, call 703-228-4721 or check the Web site at www.novaseniorolympics.com.