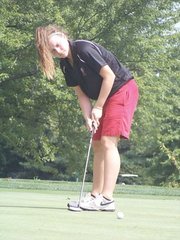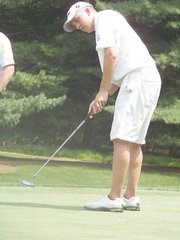 Lightning-fast greens and duffed tee shots left Oakton's Amanda Steinhagen shaking her head in frustration at International Country Club in Chantilly on Monday, Aug. 10.
Steinhagen, along with golfers from 11 local high schools, faced near 100-degree weather, sporadic wind gusts and challenging pin placements for the season-opening Cougar Classic golf tournament, which was hosted by Oakton High.
In 2008, Steinhagen won the Cougar Classic, but a string of bad luck and a double bogey on the fourth hole -- a 192-yard par-3 -- put repeating as the tournament's champion out of reach.
"[The day] just started out rough and I had bad luck on hole four," the 17-year-old senior said. "I just couldn't do anything to save myself."
Steinhagen finished 7-over-par on the front nine but managed to salvage her rough start on the back, turning in a total score of 78. As a former champion, Steinhagen said that she wanted to repeat but ended up creating unnecessary pressure for herself.
"I think I put more pressure on myself because it's my home course," she said. "I didn't have pressure from anyone else. Things just happened that you can't really control."
Despite the early setback this season, Steinhagen is confident that she can recover and continue to be one of the top golfers for Oakton's team.
"I want to try and take the team as far as we can go," said Steinhagen, who finished third in the Concorde District and fourth in the Northern Region last fall. "I want to try to get to [the state championship]."
<b>OAKTON FIELDED</b> two teams at the Cougar Classic. The group featuring Steinhagen finished third overall in the tournament with a total team score of 339. The second Oakton team, consisting primarily of younger players, finished seventh with a score of 349.
"I'm very impressed with my second team," said Jack Masich, Oakton's head coach. "We had a round in the 70s and one in the 80s, I'm very happy with that."
Many coaches used the Cougar Classic as a way to gauge their potential. Masich said he believes his team has what it takes to compete for a top spot in the Concorde District.
"My expectations are high," he said. "I think we can be one of the top two or three teams in the conference this year."
Aside from a chance to look at the team's progression, Masich said he enjoys hosting the Cougar Classic because of the quality of International Country Club's course.
"We get teams from all over Fairfax County." Masich said. "They get to play a beautiful golf course. It's just a prestigious course in Fairfax County."
<b>MARSHALL AND MADISON</b> also participated in the Cougar Classic. Marshall's Scott Henning, a 15-year-old sophomore, shot a 92 and fell victim to International's fast greens.
"I'm used to playing on slower greens," he said. "I just need to practice on the putting. I just never got a consistent feel for the greens."
The Marshall team did not record a final team score and had two players fail to complete the course, but Henning is optimistic about the season.
"We've got a lot of younger players. It's a different team," he said. "We're going to see if we can build and get some lower scores."
Madison finished with a total score of 341 to tie for fourth with Lake Braddock and had two scores in the 70s, which were provided by Joe Maloney and Al Hubbard. Maloney, an 18-year-old senior, said the weather conditions provided an additional challenge to the already tough course.
"The heat was OK, but the wind was swirling," he said. "It seemed like it was coming from multiple angles."
He also had to recover from a quadruple bogey on the course's most difficult hole, a 389-yard par-4 that features a narrow tee shot, a water hazard on the left of the fairway that also guards the front side of the green and four bunkers surrounding the back of the green.
"You have to just hit the restart button when you have a bad hole like that," he said of the sixth hole.
Westfield finished first in team scoring with a 302. Westfield's Tim Ritter finished in first place individually with a 74 and Sarah Stanley, also of Westfield, took second with a 75.
Robinson Secondary School finished second with a 315, with Robinson's Alex Austin taking third overall with a 75.
<b>HERNDON'S GOLF</b> team participated in the Cougar Classic but fielded a team without its top three players.
"They didn't get their forms in on time, so we suspended them for this match," said head coach John Benkovic. "We went with a team that wasn't as schooled as I'd like, but we had to enforce the rules for the whole team."
For many of Herndon's golfers, it was their first high school tournament. Jessica Merrill, a 15-year-old sophomore, took over the No. 1 slot for Herndon and grinded through the tough course for a score of 96.
"I had to just keep my head up and keep going," she said. "I've only played this course once and I wasn't used to it. It was really hot and the wind was a factor on the first three holes."
Herndon's squad shot a 381 in team scoring for ninth place, but Benkovic is optimistic that his young squad will learn from the grueling experience.
"They need to grow," he said. They need to learn that they don't need to make miracle shots to get back into the game. I teach golf for a living and that's something that even people playing for 20 or 30 years still can't get. This is the time to learn it."