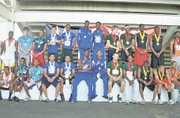 <b>Stars on the Rise</b>
In the past eight months, Summers & GeorgiaRee track and field club members competed in three national championship meets: the Nike Indoor Nationals (Boston, March 13-15), the USATF Youth Outdoor National Championships (Michigan, June 30-July 5) and the USATF Junior Olympic Track and Field Championships (North Carolina, July 28-Aug. 2). During the indoor track and field season, the club consisted of only 12 members, but as the summer, outdoor season began, the number of team grew to include 32 athletes. Twenty-two of those 32 competitors traveled to Eastern Michigan where the team won a total of 24 medals, took second place in the Young Men Division and won a national title in the 4x400-meter relay. Eight athletes qualified for the USATF Junior Olympic meet and six competed, with Isaiah Simmons representing the club on the medal stand twice. The 4x800 relay team was 13th and Kevin Johnson finished 25th in the 400 dash (Young Men). Currently, 10 club members are ranked in 12 events.
<b>South County Hires Holsclaw</b>
South County has hired TD Holsclaw as its new track and field coach, the school announced on Tuesday afternoon, July 28. Holsclaw, who will oversee both the indoor and outdoor programs, possesses over 15 years of head coaching experience, with two of those spent at George Mason University. In addition to having been named the Virginia Beach Region Coach of the Year in 2000, Holsclaw was the Northern Region Coach of the Year for track and field in 2004-05 when he led his teams to a pair of district titles and one regional championship.
<b>Linza to Hayfield</b>
On Thursday, July 30, Hayfield hired Jimmy Linza to succeed Scott Broyles as the head coach of its baseball program. Most recently, Linza spent five years at Mount Vernon High School (2001-05), winning three National District titles during that span. This past spring, Linza served as an assistant director of student activities at McLean. Linza has been a head coach for 19 years and, while at Mount Vernon, was named the 2005 Northern Region Coach of the Year for baseball. During a 24-year career, Linza has amassed a record of 229-104-6 (.684).
<b>They're Good Sports, Too</b>
The Fairfax Station dive team finished its season on a high note. In addition to a 5-0 season and a divisional championship, Fairfax Station was presented with the annual, coveted Sportsmanship Award, which is voted on by opposing teams. Additionally, 16 Fairfax Station divers competed in the Division VI meet at Great Falls, where Tyler Hazard (Freshman boys'), Molly Rowland (Junior girls'), Teal Schuppin (Junior girls'), Andrew Pascual (Junior boys'), Mackenzie Wessling (Intermediate girls') and Zach Monday (Intermediate boys') all qualified for the Individual All-Star meet on Aug. 2.
<b>Site Determined</b>
Beijing had the 2008 Summer Games. Vancouver will host the 2010 Winter Games. And the 2015 World Police and Fire Games? They'll be right here in Fairfax County. A group of Fairfax representatives from the police, fire and sheriff's departments, Team Fairfax recently learned that it was awarded the right to host the event, which will include events at George Mason University, the Fairfax County Criminal Justice Academy, various regional parks, the National Mall, Nationals Park, Reston Town Center and Quantico Marines Corps Base. In its 30th year of existence, the WPFG brings together participants from more than 65 countries, and the event has been going on since 1985. This year will coincide with the 75th Anniversary of the Fairfax Police Department. The WPFG includes over 60 different sporting events, which range from soccer, basketball and tennis to stair climbing, shooting and SWAT exercises.
<b>Lange Booked</b>
After headlining the previous seven professional boxing shows at George Mason University's Patriot Center, Great Falls native and Bishop O'Connell graduate Jimmy Lange will return to Fairfax on Saturday, Sept. 26 to defend his World Boxing Council (WBC) U.S. National Boxing Championship (USNBC) 154-pound title against Jonathan Reid. Lange is familiar with Reid, too, as both spent time on NBC's "The Contender," which is a reality boxing show. Lange (30-3-2, 21 KOs) and Reid (34-11, 19 KOs) will meet in the card's 12-round Main Event. Tickets, which range in price from $30-$500, are available at the Patriot Center box office and through all Ticketmaster outlets. Lange last appeared at Patriot Center in May, scoring a fifth-round TKO of Frank Houghtaling.