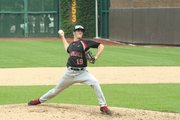 Bobby Wahl traveled approximately 1,400 miles by plane over the course of four days to produce three stats: one inning pitched, one hit and one strikeout. That's how Wahl's pitching line would've read had it been announced by the game's official scorer in Wrigley Field's press box.
But even though Wahl's statistical contributions to the Under-Armour All-America Baseball Game on Saturday, Aug. 8 were minimal, the memories from a weekend spent rubbing elbows with Cal Ripken Jr. and Ernie Banks, as well as pitching in one of Major League Baseball's most historic ballparks will last a lifetime.
"It was one of those things that didn't seem real at the time," said the right-handed Wahl, a rising senior at West Springfield who allowed a hit to the first batter he faced, which he erased with a double play before striking out the third hitter of the fifth inning.
Wahl was one of 36 players selected to participate in the game, which pitted Team One against Baseball Factory, and he was the only one from Maryland, Washington D.C. or Virginia. It's the second year for the game, which took place at Wrigley last summer as well.
About a month ago, Wahl fielded a call from Steve Bernhardt, the executive vice president of baseball operations for Baseball Factory, a recruiting resource of sorts that combines instruction, tournament competition and college planning and placement.
And when Bernhardt asked Wahl to participate, it didn't take very long to produce an answer.
"[Bernhardt] gave me a call and asked if I wanted to participate in this and it was a sure yes, right away," Wahl said.
<b>BESIDES PITCHING,</b> Wahl excelled this season as a hitter at West Springfield, producing a .380 batting average with seven home runs and 29 RBIs for the reigning Patriot District and Northern Region champions. But, it's on the mound where Wahl has been most effective. In 62 innings this spring, Wahl recorded 101 strikeouts and had an ERA of 1.59.
His pitching has also been one of the primary reasons why Wahl has already committed to play baseball in the spring of 2011 at the University of Mississippi, joining Matt and Mike Snyder of Westfield. But for the time being, Wahl relished the chance to meet his childhood hero and experience something like pitching at Wrigley.
After arriving on Thursday around 12:30 p.m., Wahl checked into the team hotel. There, the players had an entire, over-sized room to themselves, and they spent the next few hours getting acquainted with one other through ping-pong and video games.
A tour of Wrigley followed later that afternoon, with visits to the clubhouses included. For dinner, the players ate at the stadium and met Ripken to receive their game jerseys.
"He's always been my favorite player," said Wahl of Ripken, who set the record for consecutive games played when he played in his 2,131th straight game on Sept. 6, 1995. "It was real cool because I had never had a chance to meet him, and finally I was able to meet him and talk to him."
The next day, Wahl worked out with his teammates at Wrigley and received "everything you could ever want" in the way of Under-Armour practice gear. After lunch, there was supposed to be a home-run derby qualifying round but that was rained out, and the players finished off the evening by attending that evening's Chicago White Sox/Cleveland Indians game at U.S. Cellular Field.
On Saturday, Wahl lived the life of a big leaguer. He had breakfast at the ballpark. He took batting practice and some infield. He ate lunch at the ballpark. Following the home run derby, the game started and Wahl waited his turn in the bullpen, making small talk with some of the top pitchers from around the country.
"It was a great honor," said Wahl, who's one inning of work lasted less than 10 minutes. "Being [one of the] top 36 in the nation, it was something that I was extremely happy to be able to do. Being able to represent Virginia and the class of 2010, it was crazy. It was a great experience."