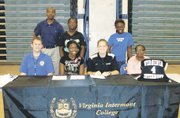 <b>Academically Inclined</b>
Kari Morrison is the career and season leader for ground balls as a women's lacrosse player at Virginia Tech, with 166 over a three-year career after transferring from Colgate and 65 during the 2008 season. She also ranks second in career saves (574) and third for saves in a season (207). But on Tuesday, Aug. 4, Morrison did something else remarkable as a Hokie when she made the All-Atlantic Coast Conference Women's Lacrosse Academic Team for the third straight time. A Bishop Ireton graduate and Springfield native, Morrison recently earned her degree in nutrition and exercise. Morrison, a goalkeeper, recorded 189 saves this past season with a save percentage of .467.
<b>Linza to Hayfield</b>
On Thursday, July 30, Hayfield hired Jimmy Linza to succeed Scott Broyles as the head coach of its baseball program. Most recently, Linza spent five years at Mount Vernon High School (2001-05), winning three National District titles during that span. This past spring, Linza served as an assistant director of student activities at McLean. Linza has been a head coach for 19 years and, while at Mount Vernon, was named the 2005 Northern Region Coach of the Year for baseball. During a 24-year career, Linza has amassed a record of 229-104-6 (.684).
<b>Coach Wanted</b>
West Springfield High School is looking for an assistant field hockey coach. Experience is a must. Practice times are 8-11 a.m., beginning Aug. 11, and 3-6 p.m. when school starts. Send resumes to director of student activities Andy Muir at Andy.Muir@fcps.edu.
<b>Basketball Camp</b>
C.J. Vick and the Jewish Community Center of Northern Virginia will host a Preseason Youth Basketball Clinic Sept. 8-Oct. 20, on Tuesdays, from 5:30-7 p.m. All participants will receive detailed progress reports with individual feedback from the instructor. The clinic also features an end-of-season game on Sunday, Oct. 25 for all participants and family members. The cost for JCCNV members is $170; cost for non-members is $215. Registration must be completed prior to Sept. 15. To register, contact Allison Colman at AllisonC@jccnv.org or 703-537-3052. Vick won two Patriot District titles at Lee and went on to have a successful career at Quinnipiac University.
<b>Site Determined</b>
Beijing had the 2008 Summer Games. Vancouver will host the 2010 Winter Games. And the 2015 World Police and Fire Games? They'll be right here in Fairfax County. A group of Fairfax representatives from the police, fire and sheriff's departments, Team Fairfax recently learned that it was awarded the right to host the event, which will include events at George Mason University, the Fairfax County Criminal Justice Academy, various regional parks, the National Mall, Nationals Park, Reston Town Center and Quantico Marines Corps Base. In its 30th year of existence, the WPFG brings together participants from more than 65 countries, and the event has been going on since 1985. This year will coincide with the 75th Anniversary of the Fairfax Police Department. The WPFG includes over 60 different sporting events, which range from soccer, basketball and tennis to stair climbing, shooting and SWAT exercises.
<b>Lange Booked</b>
After headlining the previous seven professional boxing shows at George Mason University's Patriot Center, Great Falls native and Bishop O'Connell graduate Jimmy Lange will return to Fairfax on Saturday, Sept. 26 to defend his World Boxing Council (WBC) U.S. National Boxing Championship (USNBC) 154-pound title against Jonathan Reid. Lange is familiar with Reid, too, as both spent time on NBC's "The Contender," which is a reality boxing show. Lange (30-3-2, 21 KOs) and Reid (34-11, 19 KOs) will meet in the card's 12-round Main Event. Tickets, which range in price from $30-$500, are available at the Patriot Center box office and through all Ticketmaster outlets. Lange last appeared at Patriot Center in May, scoring a fifth-round TKO of Frank Houghtaling.