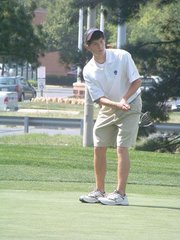 West Potomac's golf team took on the challenging International Country Club in Chantilly during the annual Cougar Classic on Monday, Aug. 10 and learned it has a ways to go to compete with top programs.
The Cougar Classic is hosted by Oakton High School and featured 11 local high school golf teams. West Potomac's golfers faced a challenge at International, which is known for its lightning-fast greens and various water hazards. They also faced near 100-degree heat and sporadic wind gusts.
The team finished with a total score of 392, placing 10th overall. Alex Cheng posted the lowest score for the team with an 87.
"We have a young team," head coach Robert Wallace said. "Last year we lost about seven kids. It's going to be a rebuilding year."
Wallace said that the weather played a role in making the day on the links tough for his team.
"It's hot and that makes for a long, challenging day," he said. "I definitely think that factored in."
Most coaches use the early-season Cougar Classic to assess their team's strengths and weaknesses and Wallace was no different, already picking out areas to improve for the coming season.
"We need to work on the short game, putting and getting used to faster greens," he said. "It's the first tournament of the season, so some of the kids are still a bit rusty. It's a young team and I'm sure they're willing to learn."
Westfield finished first in team scoring at 302. Westfield's Tim Ritter finished in first place individually with a 74 and Sarah Stanley, also of Westfield, took second with a 75. Robinson Secondary School finished second with a 315 and was led by Alex Austin, who placed third with a 75.