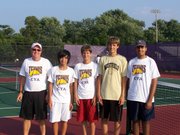 <b>Chantilly Boys Win Tennis Championship</b>
The CYA high school boys travel tennis team defeated Herndon 2-1 to win the Northern Virginia USTA Junior Team Tennis League. Ryan D'Ercole and Matthew Ong both won their singles matches to clinch the championship. Herndon was undefeated during the regular season, but CYA won three consecutive playoff games to win the championship. "It does not surprise me at all that this team came back and defeated a team that had not lost all season," Doug Kegerreis, coordinator of the CYA tennis program and coach, said. "It reflects how much better they are now."
<b>Nationally Ranked</b>
<bt>The Fairfax Stars U-12 girls' basketball team recently traveled to Kingsport, Tenn. to compete against 64 teams from 27 states in the AAU National Championships. The team completed pool play with a 3-0 record and finished the tournament with a 4-2 record. Due to their excellent play, the Stars finished the year ranked 13th in the country. This is the second year in a row the team has made it to the tournament's round of 16.
<b>Master the Art of Pingpong</b>
<bt>On Saturday, Aug. 15, the Northern Virginia Table Tennis Center opened its doors to customers. Located at 4264-C Entre Court in Chantilly, the center features eight professional pingpong tables, professional lighting and lessons for players of all ages. Coach Zhong Xing Lu is also looking to form a unified team to promote table tennis in the area.
<b>Another "Race For The Cure"</b>
The Gynecologic Cancer Foundation (GCF) is hosting a half marathon, 5k fun run and mile walk in Washington D.C. on Nov. 8, to help raise money for GCF programs. All members of the surrounding area and running community are invited to participate. Participants can run as an individual or as a member of a six-person relay team. Cash prizes will be awarded to the top finishers. More information can be found at www.gcfrace.com.
<b>Basketball Development Sessions</b>
With the basketball season approaching, current Bishop Ireton Varsity Basketball Coach Mark Vincent is hosting weekly player development sessions to prepare for the season. The sessions are focused on improving shooting, ball handling and other skills necessary to excel on the basketball court. More information about these sessions can be requested by e-mailing markvincentbasketballcamps@gmail.com
<b>SYA Softball Registration Open Through Aug. 23</b>
Any girl can play softball even if she's never picked up a bat! SYA Softball welcomes all girls from ages 4-18, regardless of ability or experience. The fall season focuses on skill development and learning teamwork and sportsmanship. Register online at http://www.syasports.org or call the SYA office at 703-815-3362.
Girls who play sports have a more positive body image, higher self-esteem, lower risk of depression, obesity and eating disorders, better grades, and less involvement with drugs, alcohol and smoking. Women business leaders often say their participation in sports helped them develop leadership and teamwork skills. The Southwestern Youth Association (SYA) provides quality sports programs through the efforts of hundreds of volunteers who cherish "Youth, Our Greatest Resource."
More like this story