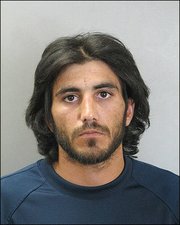 A W.T. Woodson High School wrestling coach was arrested for inappropriate online discussions with a minor when the 14-year-old girl he thought he was talking to was actually a Spotsylvania Sheriff's Deputy.
Gary Debrielle, 26, was an assistant coach at W.T. Woodson High School for the past two years. He was charged with attempted indecent liberties with a child and online solicitation of a child.
According to Fairfax County Public School's spokesman Mary Shaw, Debrielle was not a full-time employee with Fairfax County Public Schools. Shaw also said that Debrielle never taught in a classroom but interacted with students that he coached.
"He was never in contact with students [as a teacher in a classroom], and he is no longer employed," Shaw said. "He was employed on a month-by-month basis."
From July 10-14, Deputy Megan Warren of the Spotsylvania Sheriff's Department posed as a 14-year-old girl online and engaged in conversations with Debrielle.
"[Debrielle] believed that he was speaking to a 14-year-old girl," said 1st Sgt. Liz Scott of the Spotsylvania Sheriff's Office. "He engaged her in sexual conversation."
The Spotsylvania Sheriff's Office traced Debrielle's screen name to his home in Chantilly and found that he was employed by Fairfax County Public Schools.
On Aug. 13, Warren obtained a warrant for Debrielle's arrest, and he was arrested by the Fairfax County Police Department on Friday, Aug. 14. Scott said that Fairfax County Police arrested Debrielle because Spotsylvania Police cannot respond to a warrant issued on a person living in another jurisdiction.
Scott explained that in order for someone to be charged with online crimes of a sexual nature, certain guidelines must be met.
"The suspect must be aware the [other party] is under 18 and the [suspect must make] the conversation sexual," she said. "[The officer] doesn't try to cause them to engage in sexual discussion."
Debrielle will be transferred to the Rappahannock Regional Jail. He will be held under no bond pending a court appearance in the Spotsylvania Juvenile and Domestic Relations District Court.