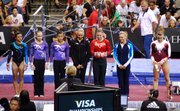 Focusing on her floor exercise routine, Brooke Parker knows that just one fall could ruin her chances at making the U.S. Women's gymnastics team.
She tries to calm her nerves, ignore the NCAA scouts who are watching and block out the fact that 2008 Olympic gold medalist Nastia Liukin is among her competitors. The roaring crowd and television cameras don't faze her.
"I really enjoy performing in front of the crowd," she said. "It's like they are cheering for me. It's encouraging."
Parker, a resident of Lorton, competed against members of the 2008 U.S. Women's gymnastics team at the Visa Championships in Dallas, Texas on Aug. 13 and 15.
"It's really exciting to be on the same mats as them," the 15-year-old gymnast said. "It's nice to know I'm on the same level."
Her goal: Qualify for the national team with a score above 54.00 in a single round and take a spot in the top 10 against 19 other girls. It's a challenge considering her competitors share the same dream she does, competing at the 2012 Olympic Games in London.
"If I can make the national team, then I go to the Olympic trials," she said.
Unfortunately, a fall on the balance beam at Thursday's preliminary put her just under the 54.00 mark, hampering her national team goal this year.
"A fall is an automatic one point deduction," she said. "I just have to collect myself and train harder."
Parker improved her score on Aug. 15 with a 54.500, but finished 13th overall with a combined total of 107.950, missing the national team cut by only 1.45 points.
"It was my best meet this season," she said. "I learned to believe in myself, but it's intense against the top gymnasts. I'll try to add more difficulty to my routines."
THOUGH PARKER'S ultimate goal is to compete in the Olympics, her gymnastics career started because of her interest in other sports.
"We wanted to have her train for other sports," said Mike Parker, Brooke's father. "Gymnastics teaches flexibility and endurance, but she just fell in love with gymnastics."
Brooke Parker said that the difficulty of the maneuvers a gymnast can execute drew her to the sport. "The feeling of flipping around was really cool," she said. "It feels impossible, but you can do it. Everyday, I liked it more and more."
Her gymnastics skills came from hard work and training, but she credits some of her success to her family's athletic background.
Her mother, Nora Parker, was a soccer player at California State University in Long Beach, Calif., and her father is a retired Marine Corps major. She isn't the only gymnast in the family, her brother Jayce, 17, is a retired world-class tumbler.
Outside of the gym, Parker is a junior at South County Secondary School in Lorton, but her life as an elite gymnast has made her anything but an average teenager.
Her training schedule during the school year leaves little room for personal time and studies. She attends class from 7 a.m. to 2:15 p.m., and then heads straight to the gym for a five-hour practice session.
"It's hard [being an elite gymnast]," she said. "I don't get a lot of time for friends or homework."
Mike Parker said Brooke's experience as a military brat prepared her for the rigorous schedule. "[She] comes from a military family so she's used to structure in her life," he said. "We do a lot together as a family on the weekends."
Even though Brooke Parker didn't qualify for the national team this year, it doesn't mean the dream is over. She'll enjoy a well-deserved two-week vacation and then return to her home gym, Capital Gymnastics National Training Center in Burke, to continue training.
"We'll start training for next season," Mike Parker said. "She may get invited to train at the national camp next fall."