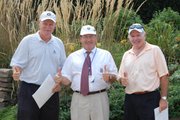 Golf great Bobby Jones considered an 18-hole match an insufficient test of talent for players. He thought that 36 holes were needed to separate the good golfers from the also-rans.
At Mount Vernon Country Club on Thursday, 52 men attempted to qualify for the 2009 U.S. Senior Amateur. In this case, the best golfers did indeed rise to the top in only one round.
Two of the Washington area's finest senior amateurs — Marty West and Pat Tallent — claimed co-medalist honors. Each shot 3-under 67 on the mid-length Mount Vernon track, a par-70 course that demands good shot-making and course management. Weir King of Stuart, Fla., earned the third and last spot with a 1-over 71.
A Vienna resident, Tallent has one of the best amateur golf resumes in the country. The Congressional member had anticipated that an under-par score would qualify for next month's national championship.
"I figured that a 67 or 68 would get a spot," he said afterward.
Tallent, 55, had four birdies during the round, but counted two par putts as the highlights.
"One was on the tough third hole, where the green is protected by a creek and a pond," he said. "That was a big boost."
West, 61, lives in Rockville, Md., and plays at Columbia. He also posted four birdies in his round and said afterward, "I only missed two greens. I'll take that anytime."
This was his sixth time to qualify for the Senior Amateur, and he has made it to the match play part of the championship on five occasions.
The Beverly Country Club in Chicago will host the U.S. Senior Amateur Championship Sept. 12-17.