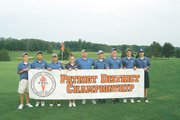 Sitting at his desk at Woodbridge High School in Prince William County, newly appointed Director of Student Activities Karl Kerns often reflects about his most recent job, coaching the Lake Braddock Secondary School golf team.
"I look outside and think about [my golfers]," Kerns said. "I look at the clock and think, 'They must be practicing now.' But things have changed."
In the afternoon, Kerns used to practice approach shots and drives, now he fills out paperwork and prepares to oversee student activities at Woodbridge High in Prince William County for the coming school year.
"The world [of being a golf coach] is quickly becoming a memory," he said.
On Aug. 19, Kerns ended his six-year tenure as the Bruin's head golf coach as his team played in the Patriot District Preview. Though he was still the coach, he spent his last day at Twin Lakes Golf Course, Lake Braddock's home course, reveling in the atmosphere of junior golf and thinking about the future.
"I was more of a spectator that day," he said. "It felt like it was time to go. I just kind of worked my way around the course and said good luck to everyone."
Rather than spend a moment with each player, Kerns delivered a group goodbye.
"It's just too hard to talk to each one individually," he said. "They call you coach, but you're more of a mentor."
THE LAKE BRADDOCK golf team was hit with two items of bad news at the Patriot District Preview. First, the team lost in a tiebreaker to West Springfield, a team they beat the previous week in a tiebreaker. Then came the news of Kern's new job.
"Right after the game I told them I accepted a job at Woodbridge," he said. "One parent groaned, some kids were happy, [others] were shocked."
Kerns leaves behind a strong legacy at Lake Braddock. As the golf coach, he led the Bruins to three consecutive Patriot District titles in 2006, 2007 and 2008.
"Nobody in my memory has won the district four straight times," he said. "I think that [Lake Braddock] can do it this year. I would tell them, win district titles for you, not for me."
Bill Hughes, a math teacher at Lake Braddock, will be Kern's replacement for the 2009 season. Hughes served as an assistant at the beginning of the season.
Kerns said that Hughes was a perfect fit for the job.
"He knows the administrative side of coaching well," Kerns said. "He'll do a great job, I know it."
Hughes said that the transition from being an assistant to taking over as head coach has gone well.
"I feel like [the team] is playing well, regardless of who is coaching," he said. "The district is really tight this year, but I think we are good enough to win [the district title]."
The golf team isn't the only job that Kerns will leave behind. His new job at Woodbridge ends his 15-year career at Fairfax County Public Schools. Kerns taught World History I at Lake Braddock from 2001-09 and previously taught at Hayfield Secondary School.
In addition to teaching and coaching, Kerns also played a role in organizing local junior golf tournaments.
"Karl was a tremendous asset to our golf program," said Mark Martino, Lake Braddock director of student activities. "He was instrumental in running the district tournament and regional tournament. He will be tough to replace."
Kerns said the adjustment from golf coach to director of student activities has already been a challenge.
"It's going. I'm learning as I'm going," he said. "I'm excited for school to start and for the kids to return."
While Kerns said that he has some adjusting to do in his new job, he is familiar with the Prince William County area.
"I live out here, so I know what goes on around here," he said. "I'm familiar but there's work to be done."
Though Kerns decided not to meet with each player of his golf team individually, he did have a final message for them as he settled into his new job.
"Whatever you do, always play to win," he said. "In everything you do, make it a competition. You have to work to get better. Give it your all in life and golf."