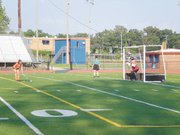 Some goalies have pre-game rituals or superstitions that are meant to calm any nerves before taking their place in front of the net. Then there's West Springfield's Kristen Beyer, who relies on pure adrenaline to drive her competitiveness.
"I just go out there pumped [to play]," the senior goalie said. "I don't really rely on any rituals."
In the Lady Spartan's scrimmage with Hayfield Secondary School on Tuesday Aug. 25., Beyer's "pumped" style of play earned her a shutout and turned away a penalty stroke late in the fourth quarter.
After a flagrant foul near the West Springfield goal, Hayfield's Katie Zatt lined up to take a penalty stroke, but she sent it wide left keeping the score at 1-0 in the Lady Spartan's favor.
Beyer said that she was disappointed that she didn't get to display the one-on-one goaltending skills she had been working on all week.
"I was mad that it didn't really challenge me," she said. "I was pumped for it. I wanted to block it. We practiced it all week in case this situation happened in a game."
Though Beyer was the last line of defense against the Hawks' offense, she credits her teams' communication on defense as the reason the Lady Spartans helped her earn the shutout in the two quarters she played.
West Springfield's Mary Walsh also recorded shutout in the games' first two quarters.
"I thought we talked a lot [on the field]," Beyer said. "Our communication was much better than in previous games. I think it really showed out there."
First year Head Coach Rosie Pannoni agreed that communication was a key in their scrimmage victory, stating that it was one of many skills they had been working on in practice.
"We had a scrimmage last week and we realized that we had a lot of things to work on," Pannoni said. "We passed much better today and we created opportunities. I thought we just looked much better."
AT THE HALF, the Spartans and Hawks were tied 0-0 with neither side creating a scoring threat.
Pannoni recognized that her players were tentative in the offensive zone and said that she talked to her players about calming down and focusing on what they practiced at halftime.
"I told them to calm down and to not play so frantic," she said. "I told them don't get scared, don't get worried, just do the things we need to do."
The pep talk helped as the Lady Spartans immediately put pressure on the Hayfield defense to start the second half.
In the third quarter, the Spartans rushed down the sidelines and scored the first goal of the game. Eleanor Lamb received a pass from the sidelines, assessed the scoring situation before firing a shot that senior forward Alex Abrahamson tipped past the Hayfield goalie.
"[Eleanor] had a great assist," Abrahamson said. "We really worked on spreading out the field and that goal was a result of it."
Though the 1-0 result in regulation was not what Hayfield Head Coach Lauren White had in mind, she was pleased with her squad's effort despite the loss.
"Overall, they've improved," she said. "I'm proud of them. It was a team effort out there today."
Hayfield did manage to score a goal in an extra practice overtime period, but White said that the team still has some training to do before the season opener on Sept. 2, against Robert E. Lee High School.
"We need to work on our finishing and moving up the field," she said. "I think we're just excited and ready for the season to start."