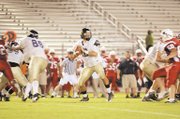 Perhaps Lake Braddock Secondary School's first drive in its scrimmage with Gar-Field Senior High School on Thursday, Aug. 20 explains why the Bruins' faithful believe this could be a strong season.
After giving up a touchdown on the first drive of the game, the Bruins offense marched onto the field behind junior quarterback Michael Nebrich.
Using a new spread offense, Nebrich put on a passing clinic, driving the Bruins down the field while his offensive line gave him ample time to find an open man.
When Nebrich was pressured, he transformed into a speedy scrambler capable of breaking a 20-yard run. On this drive, he rolled out of the pocket and searched for receivers as if there wasn't a blitz just seconds before.
Finally, after marching nearly 60 yards with only one running play, Nebrich lobbed a pass into the end zone for senior Brandon Johnson, giving Nebrich his first of four passing touchdowns that evening.
Nebrich was the star of the Bruins' 55-7 rout of Gar-Field High School, passing for more than 250 yards and scoring four passing touchdowns and one rushing touchdown.
FOR THE BRUINS' fans, seeing was believing, but Head Coach James Poythress said Nebrich's dominance was all according to plan.
"We're expecting him to be one of the top quarterbacks in the region," Poythress said.
With an accurate arm, speedy scrambling ability and a squad of receivers who could fight their way to more yardage after the catch, Poythress' claim is valid.
While passing more than 250 yards might have one quarterback's head in the clouds, Nebrich knew that this was only a test of his team's abilities.
"We kind of preached to each other that we had to stay focused," Nebrich said. "We treated this as practice. We stayed focused and stayed calm. I think we did a real good job."
Lake Braddock is entering this season with high hopes thanks to the new spread offense it plans to run. If Friday night was any indication, the team is capable of executing it efficiently.
The Bruins' offense didn't have a four-and-out possession until late in the second quarter.
"I think [the performance] speaks for itself," Poythress said. "I don't think we scored that many points in one game all last year."
The spread offense's success didn't just energize the team, it also allowed players to relax and force Gar-Field to play by the Bruins' rules.
"I like how the [opposing] defense gets tired [when you run the spread]," said senior offensive lineman Young Won. "It just makes blocking so much easier."
On the defensive side of the ball, senior middle linebacker Chris Lavery said that knowing he's playing with a potent offense makes his job less stressful.
"It took a lot of pressure off," Lavery said. "The offense was on the field all the time, it just helped us out a ton."
While the Bruins dominated the game on offense, the defense got off to a shaky start, letting Gar-Field drive for a touchdown on the opening drive of the game.
"On the first drive, there's always a lot nerves," Lavery said. "You think about practice and you have the jitters. We just calmed down and started playing football."
After Gar-Field's first touchdown, Lake Braddock clamped down on defense and it wasn't until the fourth quarter that Gar-Field threatened to score again.
"We've got a big defensive line," Lavery said. "We're just stacked up. I feel like the defense will take us everywhere this year."
With one scrimmage out of the way and the season looming, the Bruins are looking forward to the season and aren't afraid to set big goals.
"I just want to play on Thanksgiving, make the playoffs and then make a run for [the state championship]," Lavery said.