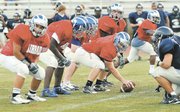 A no-huddle offense is at its best when pushing tempo.
West Potomac football coach Eric Henderson must have thought his "Air Raid" group needed a boost.
"Hurry this up!" he shouted at his offense during the early stages of an Aug. 20 scrimmage against Washington-Lee. "We're a no-huddle offense — hurry this up!"
The Wolverines weren't at their best, but the team's spread offense moved the ball through the air and on the ground against the Generals, showing potential for a successful 2009 season.
West Potomac features some talented skill-position players, including a quarterback and three receivers listed on ESPN.com's college prospect list for Virginia. During the scrimmage, Henderson tried to ensure the team's talent was intense and focused.
"We try and play a style of football that lends itself to these kids," Henderson said after his team outplayed Washington-Lee. "They're tough kids. We condition them to death. We tell them that the third and fourth quarter, that's our time."
While West Potomac fans should be encouraged by the team's healthy supply of playmakers, reason for optimism increases when attention is turned to those responsible for clearing a path to the end zone.
THE WOLVERINES return eight starters on offense, including their entire offensive line. The line consists of four seniors, one junior and averages 252 pounds per position, according to Henderson. The unit's experience and ability become more valuable when considering quarterback Colin Mathewson is a first-year varsity starter.
"We knew that with a young quarterback that we'd have to be stronger up front," Henderson said. "The kids responded in the offseason. All the kids dedicated themselves three to four days a week lifting weights, flipping tires, doing exactly what I told them to do. I won't mind putting the game on their shoulders — especially early in the season while the quarterback [develops]."
Matt Cunningham (6 feet 3, 260 pounds) is the left tackle. Henderson said the senior is being recruited by schools in the Football Championship Subdivision (formerly I-AA), but added there's a chance Cunningham could play Division I football.
While those who score touchdowns get most of the attention, Cunningham said offensive linemen get their thrills from team success.
"We get our [statistics] from winning the games and our teammates doing well because it all starts with us," Cunningham said. "We feel like without us, the [touchdown] wouldn't have happened. … We don't necessarily need to be the headline."
Dan Carriker (6-3, 300) is the left guard. Henderson said Carriker is the strongest player on the team — and he's only a junior.
"He's going to be a snow plow," Henderson said.
Matt Campbell (5-10, 205) is the center. What the senior lacks in size he makes up for with intelligence.
Campbell is the "runt of the litter, but a very good technician, very good at setting our offensive line and making line calls," Henderson said. "I can stand behind him and I can think what he's calling. He's right in line with what we have [to do]."
Silas Agyemang (6-0, 260) is the right guard. Henderson said the senior can squat more than 500 pounds.
"He's a big, rough kid who really took off last year as a varsity football player," Henderson said.
Sammy Ahmady (5-11, 235) is the right tackle. The senior is a wrestler, who Henderson described as having great balance and lower body strength.
"He's a bull," Henderson said. He is "the toughest kid we have on the offensive line, I mean pound for pound."
THE SENIOR Mathewson (5-11, 170) takes over at quarterback having lost only two games at the freshman and junior varsity levels. Henderson said Mathewson possesses the quickness and decision-making ability to be a threat in the running game, and figures to continue improving in the passing game.
Senior receivers Will Rosenkranz (5-10, 170), Shawn Lee (5-8, 175) and Deondre Essex (5-10, 180) are college prospects for the class of 2010. Junior Jalen Dawson (5-9, 160) is also a pass-catching threat.
Seniors Darel Layne (6-0, 190) and Edward Johnson (5-9, 160) will see time at running back.
Defensively, West Potomac runs a three-man front, led by seniors Francisco Jimenez (6-2, 280) and Akram Mohamed (6-4, 360).
The linebackers are led by seniors Shakil White, J.P. Marinelli and Stephen Howell.
"We're going for a district championship this year," White said. "Anything less is a disappointment."
Henderson said the Wolverine secondary is very talented. Senior Colin McConville is the free safety, sophomore Tamaric Wilson is the strong safety, and sophomore Brandon Johnson and junior Denzel Hatch are cornerbacks.
West Potomac opens its season against Mount Vernon at 7:30 p.m. Sept. 3.