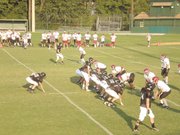 Paul VI Catholic High School's varsity football team knows that it will take hard work to be a competitor this season. In its recent scrimmage against Bishop Ireton, the team showed that it plans to rush to victory.
In the Panthers' scrimmage against Bishop Ireton High School on Monday, Aug. 24, the rushing tandem of junior quarterback Coulter Stehl and senior tailback Stephen Muskett helped lead Paul VI to a 7-7 tie in the modified half-scrimmage.
Stehl won the job of starting quarterback this season and his scrambling ability helped create the Panthers' first touchdown.
As Bishop Ireton defenders broke through Paul VI's offensive line, Stehl dashed to the sidelines, saw a receiver beat his man and launched the ball 30 yards into the end zone.
Despite displaying elusive bursts of speed throughout the scrimmage, Stehl was surprised by his own speed and scrambling ability.
"I don't think I'm a fast guy," Stehl said. "But it's really neat that I'm scrambling this well."
Stehl spent the 2008-09 season as the quarterback of Paul VI's junior varsity team, but Head Coach Pat McGroarty thinks that his young signal caller is progressing well.
"I thought that [Stehl] improved a lot today," McGroarty said. "He's showed great poise and made good decisions. He had one interception, but it's good that he made that mistake in a game situation and can learn from it."
WHILE STEHL plays the role of the elusive runner, Muskett could be best described as a freight train that punches holes in the defensive line and battles for extra yards.
In one play, Muskett rammed his way through the defensive line, knocking over one Ireton defender and then spinning around another before being dragged down by the secondary for a 15-yard gain.
"I think I could hit the holes even harder," Muskett said. "I think I can put on a move, but I'm not going to juke too many guys. I'm going to run at them."
Muskett's style of running is nothing new to the Paul VI game plan, in fact, it's expected of him.
"Our backs run the ball hard. It's what they do," McGroarty said. "[Muskett] was rotated around in the backfield last year, but he's going to need to carry the load this year."
While the Panthers may have two players that possess the talent to break a big play, McGroarty said that the team is more concerned with finding leadership after losing key players in the off season.
"In the off season, we lost a tailback and we lost a linebacker," he said. "If this team is going to win anything this year, it's going to be because we pull together and win as a team. When you lose high quality players, you have to find where your leadership is."
As McGroarty delivered a post-game talk, he reminded his players that despite some signs of progress, the focus on leadership was more important than flashy plays.
"Everybody needs to know where they need to be," he said. "We can't have individuals out there trying to make plays. You don't win that way. We need to work as a team."
In 2008-09, Paul VI finished in sixth place in the Washington Catholic Athletic Conference with a 4-6 record. Although the coming season might be a rebuilding year, that isn't keeping the Panthers from setting goals to work toward.
"I'd like to be an All-Conference quarterback and make an appearance in the playoffs," Stehl said.