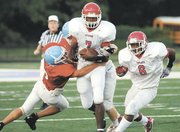 The T.C. Williams football team has a strong-armed quarterback, speedy receivers and running backs and a spread offense designed to exploit mismatches.
Head coach Dennis Randolph said the team has around 15 players with a 40-yard dash time faster than 4.7 seconds. He also said an offseason conditioning program has helped the Titans, who performed well during summer passing camps.
With one week until its 2009 season opener at Robinson, all signs point to T.C. Williams including a slew of speedsters in the offensive gameplan in an attempt to sprint past opponents — and a losing culture attached to the program since the mid-1990s.
The Titans, who finished 3-7 last year, have not had a winning season since 1995. Will 2009 be different? Randolph said the program's offseason conditioning is one way to change a losing mentality.
All that speed doesn't hurt, either.
"In a traditional offense … you've got one back that does most of the workload. … We have about eight guys that we want to touch the football during the course of game," Randolph said. "Because of that, we went to the spread offense [in 2008] because the spread offense enables you to get the ball to kids in situations where they're in space.
"… Everybody has somebody that can run a 4.5 or a 4.6. We have two guys that can run a 4.4 [Cortez Taylor, Aziz Coker], three guys in the 4.5 area and we have about 10 or 11 guys that can run a 4.6. In our offensive scheme, we just think we can get a mismatch, no matter who we play."
Seniors Joe Hargrove (6 feet 3, 177 pounds) and John Bray (6-0, 145) entered last weekend's scrimmage against Marshall in competition for the starting quarterback position. Randolph said Hargrove had a stronger showing during the scrimmage, but said he would wait to name a starter.
Hargrove's strong arm and athleticism would seem to fit well in the Titans offense. While the left-hander likes throwing deep, he said he's not one dimensional.
"Coach Randolph, obviously, he gets mad when I go deep all the time," Hargrove said. "I want to go through my progressions. Over the years, I have developed as a quarterback."
Hargrove said the Titans have better chemistry than last season.
"The past few years … it's been a team of 'me,'" he said. It should be "a team of 'us.' It's a team game. Spending time together [during the offseason] has helped."
T.C. Williams' top receivers figure to be the seniors Coker (6-4, 190) and Taylor (5-6, 145), junior Will Rossi (5-8, 155) and senior Rashad Quarles (6-1, 170).
At running back, senior Charlie Garner (5-10, 165) is slated to be the starter, while sophomore Raquan Brunson (5-8, 150) should also see time.
Right tackle Jay Whitmire (6-6, 290) will anchor the offensive line. Randolph said the junior has received offers from several Division I schools, including Penn State and Virginia.
Senior Luke Dorris (6-3, 275) will be the right guard. Sophomore Aaron Tovsky (6-1 190) is the center after starting last season as a freshman. Senior Shelton Martin (6-2, 260) and junior Anthony Zamora (6-0, 215) could rotate at left guard. Junior Joe Massaquoi (6-4, 230) is the left tackle.
Defensively, T.C. Williams runs a base 4-4. Whitmire, juniors Deontre Sanders (6-0, 230) and Tyrell Dixon (6-2, 200) and senior Dajuan Douglas (6-0, 190) will see time on the defensive line.
The relatively inexperienced linebacking corps will be led by juniors Tevin Isley (6-0, 205) and Damien Benton (6-1, 190).
In the secondary, senior Robbie Carter (5-11, 170) will patrol the middle of the field at free safety.
"He's a physical free safety," T.C. Williams defensive coordinator Mike Gamble said of Carter. "He likes to come up and make plays. He likes to make tackles … but when the ball's in the air, he's a ball [hawk]."
Senior Darnell Roy (5-9, 165) will play one of the cornerback positions.
T.C. Williams hosts a scrimmage against Centreville at 5 p.m. today. The Titans open their season at Robinson at 7:30 p.m. Sept. 3.