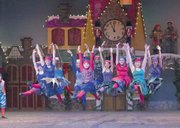 Santa Claus and the North Pole elves are familiar characters at Christmastime. But will the Claus family lose control of Christmas when the North and South Pole residents start feuding?
The answer's in Encore Theatrical Arts Project's (ETAP) production of "The Tale of Two Santas." This Broadway-style, holiday extravaganza features local girls, ages 9-18. Brandon Kalbaugh wrote and will narrate the show, and the cast of 35 has rehearsed since August.
"They've worked tirelessly to get this fantastic production together," said director and choreographer Raynor van der Merwe. "It's taken lots of sacrifice and dedication, but we want them to be triple threats — able to act, dance and sing. I'm looking forward to it, and people come back each year to see it."
She said attendees will hear their favorite, holiday songs, including some different arrangements, and will "leave the theater singing a tune and being in the holiday spirit."
The South Pole set look icy in white and blue, while the North Pole set is in red, white and green. There's a train depot, sweet shoppe, elf quarters and a bridge so, besides the musical numbers, said van der Merwe, "It'll also be colorful and visually exciting."
Westfield High sophomore Grace Martin has danced nine years with Encore and says it's like having another family. Each actor portrays one good and one bad character. Her good one is North Pole elf, Cranberry, and her bad one is South Pole elf, Crumble.
"They're polar opposites," said Martin. "Cranberry's bubbly and kind of clueless about what's going on. Crumble's sassy and the sidekick of the main evil character, Crystal. Most of the characters I play are like Cranberry; Crumble doesn't fit my personality, but it's cool getting to play something different."
Anna McQuitty, of Freedom High, plays Noel and Crystal. "At the North Pole, I'm the gentle, kind Noel — Santa's daughter, who's about to become the first, female Santa," said McQuitty. "But brewing in the South Pole, my opposite, Crystal, has plans of her own to take over the North Pole. It's interesting working with these two extremes."
Calling the show "exciting, suspenseful and great Christmas entertainment," McQuitty said "Blue Skies" is her favorite number. "It has a distinct style of dance, and mastering it and the technique is rewarding," she said. "It challenges you and makes you really work."
Chantilly senior Katelyn Palmer likes "the feeling you get on stage, performing for an audience, and they enjoy it." She said this show has new dances and her favorite is "Dig that Crazy Santa Claus" because "the music is energetic and upbeat. We wear South Pole elf costumes in different shades of blue."
Dancing since age 2, Centreville junior Katie Dudzik plays North Pole elf, Ginger, and South Pole elf, Snap, who's "mad to be trapped at the South Pole while all the North Pole elves have the good life." Dudzik is pleased because "they're such a contrast to each other, so I don't have to play the same role, the whole time."
She also likes the reindeer costumes she and the others wear for the "Reindeer" dance number. "We wear antlers with a velvet jacket and a tail, so it's really cute," she said. "The choreography is more challenging than other dances and the music's enthusiastic, so I feel good doing it. We're all close-knit and it shows when we perform; and I think it's amazing how doing what I love to do can put a smile on someone else's face."
Chantilly senior Sarena Hutzell especially likes the rag dolls costumes, with red-yarn hair, plaid dresses and green tights. Her favorite number is "Sing a Little Song" because "we dance with gift boxes and it's like a Rockettes number."
Overall, she said the audience will find lots to enjoy. "The plot's funny and interesting, the choreography is really good, the costumes are amazing and the sets are beautiful," said Hutzell.
Corinne Holland, a Westfield sophomore, has danced 11 years and plays elves Jingle and Jangle, each other's alter ego. "Jingle, at the North Pole, is jolly and energetic and loves to laugh and have a good time," she said. "But nothing much happens at the South Pole, and we're angry that we only get to make coal, so it's gloomy."
She likes the "Rag Dolls" number because the dancers perform as couples. Holland said the show should be a big hit because "it's a great family show to get into the spirit of Christmas and the holidays."