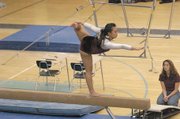 Zsa Zsa Valdez (pronounced Sasha) is competing on the beam when she starts to giggle. The Mount Vernon senior is struggling to keep her balance, and it appears her composure, as well.
Her laughter is misleading, however. Valdez isn't nervous. Actually, she's keeping herself focused on her gymnastics goal.
"I'm in it just for the fun and just to hang out with my friends," she said.
And the giggling?
"I can't take it too seriously, or if I do, I'll start freaking out," she said. "So I have to take it kind of light hearted for me to do well."
Valdez's approach is not uncommon on the Mount Vernon gymnastics team. Of the 26 athletes on the roster, only two have more than minimal experience — neither of which are club gymnasts. There are 11 freshmen on the team. Many athletes start learning the most basic of moves once they join the Majors.
Linda Fisher is in her ninth season as the program's head coach. She attended Mount Vernon and was on the gymnastics team for four years.
"We're starting from the very beginning — cartwheels, roundoffs and just hoping they can at least get on the bar, get on the beam, even if it's elementary skills just to get them up there," Fisher said. "That's how the team's always been, ever since I've been in high school. It's not anything new to me. I just want to keep the sport going, so regardless what ability I have, we try to work with it.
"We're not going to win; that's not my priority. It's to get them to learn something, to enjoy it and come back next year."
For Fisher, coaching the Majors is her escape from the daily grind.
"This is my stress reliever for the day," said Fisher, a full-time accountant who also coaches gymnastics at a dance studio.
Fisher attracts students to the program by letting them know it's open to all skill levels.
"Sometimes we do preseason conditioning, end-of-the-season conditioning [and] kind of let it open up to everybody and let everybody know that it's open to anybody," she said. "If I only told everybody, 'You have to [be able to do a] back handspring [to be on] the team,' I would have like four people, maybe."
The 26 athletes are more than Fisher usually keeps, but Fisher is trying to maintain interest in the team, especially after nearly losing the program to budget cuts last season. She usually has a few more gymnasts with experience, but nothing too serious.
Senior Meg Earley and junior Sarah Locke are the most experienced Majors.
"We don't really have a lot of expectation," Earley said. "We just go. We play it by ear."
Early, junior Sarah Marie Wood and sophomore Sidney Nesbitt are co-captains.
On Dec. 16, Mount Vernon placed third out of five teams during a meet at Yorktown. The Majors finished with 93.3 points, 2.3 ahead of fourth-place Yorktown.
Locke posted the team's best all-around score with a 26. She was Mount Vernon's top finisher on the vault (8.3) and the floor (8.0).
Valdez said her favorite event is the beam. She was the highest-scoring Major in the event with a 6.35. Lydia Pope and Mackenzie Rumley each scored an 8.0 on the vault.
Nesbitt scored an 8.1 on the vault and a 7.7 on the floor.
"I like the floor most," she said, "because you can express yourself more."
Mount Vernon won't win many events, but the team enjoys the opportunity to participate. Last year, when losing the program was a possibility, the Majors made blue T-shirts that said "save gymnastics" on the front and wore them to districts.
As long as the Majors are enjoying themselves, where they end up in the standings isn't important.
"I just want to place not last," Nesbitt said, "and have a good time."
Well, maybe slightly important.