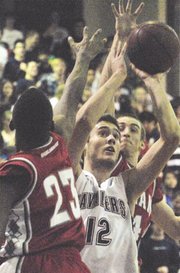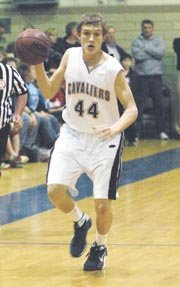 In January, the W.T. Woodson boys basketball team lost Liberty District games to Jefferson, Langley and Marshall by a total of four points.
So after the Cavaliers put the finishing touches on a 54-49 win over McLean Friday night, Jan. 30, fourth-year coach Doug Craig let out a sigh of relief, pleased to once again find his team on the much-preferred side of a tight outcome.
"It was nice to win a close one for a change," Craig said. "I didn't sleep a whole lot last night."
The win over McLean — coupled with a South Lakes loss and a Madison win — generated a temporary logjam for first place in the Liberty District. But on Monday, the Cavaliers earned a 61-50 win over the Seahawks and assumed their familiar spot atop the mountain.
"During the season, we expect to be in first place," senior forward Stephen Stepka said. "We expect to win almost every game that we play, and it kind of surprises me that we've lost three district games."
With both wins, W.T. Woodson improved to 12-7 overall, 8-3 in Liberty District play. The Cavaliers will travel to Jefferson on Friday for a rematch of the Colonials' 40-39 upset on Jan. 13.
<b>FOR THE BETTER</b> part of last season, the Cavaliers relied on forward Greg Whitaker, guard Max Lenox and Stepka, a triple-headed scoring machine that resulted in a 19-7 overall record and a 14-2 mark against district opponents.
But after reaching last year's Northern Region quarterfinals, Whitaker was lost to graduation and Lenox tore his right lateral meniscus back in October, leaving Stepka, a first team All-District selection last winter, to carry the load on his own.
"We knew Stephen was going to do Stephen's thing," Craig said. "He's a three-year varsity player. We expected a lot out of him and he's delivered."
Stepka has delivered this season to the tune of 18.5 points, 7.1 rebounds and 2.3 blocked shots per night. Against McLean, Stepka knocked down three shots from long range en route to a game-high 21 points. He also finished with nine rebounds and two blocks.
But perhaps Stepka's most impressive contributions came with a little more than a minute to go against the Highlanders. Stepka grabbed an offensive rebound, was fouled and made both free throws. Later, he caused a jump ball and, thanks to the possession arrow, W.T. Woodson maintained possession.
"A lot of people that criticize me say that I don't play hard enough or I don't rebound," Stepka said. "But I feel like I can do all of those things and be an all-around player, get critical rebounds and hustle on defense."
<b>STEPKA WOULD'VE</b> been a one-man wrecking crew against McLean had it not been for sophomore guard John Schoof, who was elevated to a starring role on the varsity squad after Lenox hurt his knee.
The ideal plan, according to Craig, was for Schoof to come off the bench and contribute as a sparkplug-type scorer. But even though he has cracked the starting lineup out of necessity, that hasn't slowed the 6-foot-5, smooth-shooting Schoof.
"At the beginning of the season, the ball was put in my hands a lot more than I expected, but I'm fine with it. I can take it," said Schoof, who is averaging 9.4 points and a team-best 3.9 assists per game this season. "It stinks to have Max out, but we've done well."
With a mother who was an All-American at East Carolina and a father who coached there and then later at Iowa State, Schoof has been around basketball his entire life. His older sister, Sarah Schoof, led the W.T. Woodson girls basketball team to the Virginia AAA state quarterfinals last winter, averaging 17 points and nine rebounds per contest.
"Anytime you rely on a sophomore to trigger your offense, there's going to be some games where he doesn't play as well," Craig said. "But we try to put him in a position to do well. John's a real smart kid. He's a gym rat, so he improves almost game-to-game."
The Cavaliers would like to mirror Schoof's game-to-game improvements. In addition to the Jefferson game on Friday, they'll also face the Langley Saxons on Feb. 10, a rematch with another one of the three teams that muddled the middle of W.T. Woodson's season.
"The last couple years we've been a little spoiled," Craig said. "We very rarely lost games to teams that were seeded lower than us, and we lost a couple of games like that this year. It's a credit to our kids that they were able to come back."