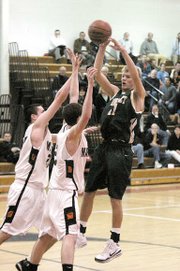 Sometimes, a tough loss can have a carryover effect. That might have been the case for the South Lakes High boys basketball team, which was defeated on a last-second shot by visiting Langley, 46-44, last Friday night, then lost at Madison, 57-43, the following day.
The Seahawks, with the consecutive Liberty District setbacks, saw their record slip to 11-7 overall and 7-3 in the district. Going into this week, they were in a three-way tie for first place with both Madison (12-5, 7-3) and W.T. Woodson (11-7, 7-3). Langley, with the victory over the Seahawks, extended its win streak to five games and improved its overall record to 13-5, 6-4 in the district.
Two weeks remain in the regular season before the start of postseason play with the Liberty District tournament, set to begin Tuesday, Feb. 17. Every regular season game from here on out will be important for both Langley and South Lakes as both are in the running for the regular-season title and a top seeding at districts. This week, the Seahawks were scheduled to play visiting Woodson Monday night, Feb. 2, and will be at Marshall Thursday night. The following week, South Lakes will wrap up the regular season with games against Stone Bridge on Tuesday, Senior Night, and at McLean on Friday, Feb. 13.
Langley was scheduled to travel to Jefferson on Monday of this week and will host Madison this Thursday night.
<b>BACK ON JAN. 6,</b> South Lakes won a dramatic overtime affair at Langley, the defending district champion. On Friday, the visiting Saxons turned the tables with a down-to-the-wire win of their own when senior Derek Baker nailed a straight-on, buzzer-beater jump shot from just inside the three-point line to break a 44-44 tie and give the visiting team the win.
Baker, a shooting guard who had scored 24 points the night before in Langley's 63-47 district home win over Stone Bridge, scored his game-winner following a pair of timeouts, the later coming with eight seconds remaining in the final quarter. On the game-winning play, Baker, standing near the Langley team bench, in bounded the ball to teammate Thomas Kody, who quickly got the ball right back to Baker near the top of the key. Baker then made a few penetrating dribbles before pulling up and shooting the ball into the bucket.
"We'd run that play in practice and I said [to Langley coach Travis Hess] we should run that play again," said Baker, of his conversation with the coach during the timeout prior to the winning basket.
Upon releasing the ball, Baker said he believed it was going in.
"I felt pretty confident it would have a good chance to go in," he said. "[South Lakes] got us in overtime at our place. We felt we needed to get this."
Hess, the Langley coach, felt good about his team's chances with Baker taking the final shot.
"We wanted to flip it back to Derek," said Hess, of the inbounds play. "I really felt it was going in."
South Lakes coach Darryl Branch credited Langley with getting off a good shot in the final seconds.
"It was a great job by [coach Hess] and they got off a jump shot near the free throw line," Branch said. "Good players are going to make that shot. I credit Langley, they were extremely physical tonight."
<b>THE SAXONS</b>, in the win, received a huge game from senior Danny Pritchett, a small forward who scored a season-high 15 points to lead the Saxons. Pritchett scored 10 of his points in the first half to help Langley build a 27-21 halftime lead. Most of his baskets came on hard drives to the basket that resulted in close-range scores. His acrobatic, swooping baseline layup basket late in the second quarter gave Langley its biggest lead of the night at 26-14.
"I think Danny was our MVP tonight," Hess said. "He really got us going early."
The Saxons were still ahead, 33-25, after three quarters and looked well on their way to victory when Baker drained a 3-pointer from the left of the top of the key area with 3 minutes, 48 seconds left to make the score 42-33 Langley.
But long-range treys by Steve Kerr and Travis Williams, followed moments later by a conventional three-point play by point guard Williams — in which he drove in the lane and scored while being fouled — capped a 9-2 South Lakes run to get the Seahawks within 44-42 with 1:05 left. A little later, Williams hit a pair of clutch foul shots to tie the game at 44 with 18 seconds left.
That set up Langley's last possession and Baker's eventual game winner.
"I like how our guys didn't quit," Branch said of his team's late surge to tie the game. "They fought back. Our defense was sound tonight."
Said coach Hess, "I'm not surprised South Lakes came back. They are a good team that will make runs and we're a good team that will make runs."
Langley's leading scorers after Pritchett were Baker (12 points), Kody (nine) and Barrett Hunter (seven). Senior guard Jack McLindon (three points) gave the Saxons a spark off the bench with a solid, all-around game.
South Lakes was led by Williams' 19 points. Also for the Seahawks, shooting guard Kerr scored 11 points while Ramin Shaheedian and Jamal Hulum (10 rebounds) both scored seven points.