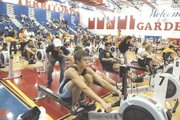 The Potomac River may be partially frozen over these days, but that didn't stop more than 1,000 local rowers of all ages from participating in an indoor version of their favorite outdoor activity.
The 2009 Mid Atlantic Erg Sprints were held this past Saturday at T.C. Williams High School in Alexandria with high school, collegiate, and adult rowers from all over the Washington, D.C. area trying to make it to the National Erg Sprint Championships.
The T.C. Williams gym was outfitted with more than 60 Concept2 Indoor Rowers as competitors rowed the equivalent of 2,000 meters (or about 1.25 miles) on the machines. Members of both the T.C. Williams crew team and the Bishop Ireton crew team competed in the event. The Titans begin their spring rowing season on March 28, while the Cardinals take to the water starting March 31 with the Cherry Blossom Regatta.