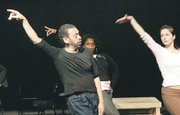 "Cool Papa's Party" covers 60 years of song and dance, against the backdrop of the world of entertainment — the political, the racial and the historic. MetroStage is premiering a new musical "Cool Papa's Party," an original work by Atlanta writer/director Thomas W. Jones II, with original music by William Knowles, beginning Feb. 5.
Dancer and choreographer, actor and singer, the legendary tap dancer Maurice Hines has joined Jones and Knowles and a cast of seven to choreograph this production, recreating the world of dance, tap and entertainment that spans the last century. "Cool Papa's Party" tells the story of a mythic figure in the world of entertainment in the tradition of Sammy Davis Jr.
Maurice Hines brings his own personal 60 years of dance and performing to the stage, reflecting the tradition of tap from the Nicholas Brothers to present day tap icon Savion Glover. At age 65 Maurice Hines has been dancing since he was five years old, reflecting a history that includes dancing with younger brother Gregory, classes with the world renowned tap teacher and choreographer Henry Le Tang in Harlem, performing as the Hines Brothers then Hines, Hines and Dad (their father being an acclaimed drummer), debuting on Broadway when he was 11 years old, appearing in "Guys and Dolls," "Eubie," "Sophisticated Ladies," "Jelly's Last Jam," and "Uptown It's Hot" ( for which he received a Tony nomination) on Broadway and in national tours, the film "Cotton Club," record recordings, and more.
Mr. Hines has thrilled the cast with stories of opening for Ella (Fitzgerald) at the Flamingo with friend and mentor Sammy Davis Jr. in the audience, his dozens of appearances with Gregory on the "Tonight Show" with Johnny Carson, stories about his good friend Lena Horne, tales of Lola Falana and Sammy Davis Jr. When he leaves us here in Alexandria on opening weekend, he heads straight for Las Vegas!
<b>By Carolyn Griffin, </b>
Producing Artistic Director, MetroStage