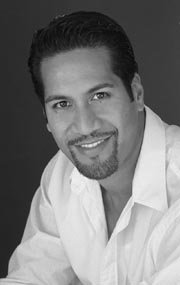 Ta'u Pupu'a, former Baltimore Raven pro football player and current acclaimed lyric tenor, will demonstrate his NFL-trained operatic singing apparatus on the upcoming Valentine's Day Concerts of the Alexandria Symphony Orchestra, entitled "O'Lovers' Voice."
I have had the privilege of working with world-class singers and am awed by them. I am awed by the power of their voices and their ability to project them into vast spaces — and to do this without amplification. I am awed by the absolute command over their vocal and breathing apparatus and the arduous physical training that is necessary to achieve such super-human things. So the training that Ta'u Pupu'a received as a pro football player has undoubtedly prepared him well for the physical rigors and demands of his burgeoning career as an opera singer.
Pupu'a's golden tenor voice is perfectly suited to the ASO's upcoming Valentine's Day Concerts. He will be joined by soprano Julie Rowling in two of the most beloved operatic love scenes — the love music from "La bohème" and from "Madama Butterfly."
<i>"See the stars! Ah, lovely night!
Thy perfect calm is breathing love near and far!"</i>
— <b>Madama Butterfly</b>
These two Puccini operas span different continents and cultures but share the composer's unsurpassed ability to write ravishingly beautiful vocal and orchestral music that comes directly from the heart.
The first half of the concert is in collaboration with the Opera Theatre of Northern Virginia and will be conducted by John Edward Niles. Pupu'a and Rowling will be joined by mezzo Leslie Mutchler and tenor Peter Burroughts in a historic regional premiere of Ravel's "L'heure espagnole (The Spanish Hour)." This masterful romantic comedy, paired with the soaring sentiment of the Puccini love scenes will take an alternately humorous and moving look at love and romance.
I hope you have a Happy Valentine's Day! See you at one of the concerts!
<b>Kim Allen Kluge</b>
Music Director
Alexandria Symphony Orchestra