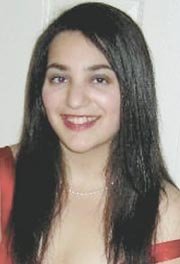 Kingstowne resident Sarah Congress, 18, a senior at Hayfield Secondary School, is one of eight winners of the 2009 Student Playwrights Project Ten-Minute Play Competition sponsored by Arena Stage. More than 500 works were submitted from students in 61 middle and high schools from the metropolitan area.
"Sarah has a great sense of humor and she's focused," said drama director Meghan Nugent. "She knows what it is she wants and she works for it."
Nugent had read Sarah's play in one or two different drafts, she said. "And it was really good in the first draft. The way that it transformed in the short revision process transformed it from a good script to a much more mature way of writing."
The 10-minute original work, "Brunon's Bookery," is a play about discovering love during World War I in Germany. It's about a father who runs a bookshop in Germany, his daughter who works in the store, and one employee named Joseph with whom the daughter falls in love. It happens to be on the day he declares he's enlisting to fight in the war.
"I watch a lot of movies and read books, and somewhere along the wa, I just came up with a story like this," said Sarah on her inspiration. "I'm just extremely passionate about telling stories to the world." She said she worked on the play for about two weeks.
The winners receive master classes in playwriting at Arena Stage in February, followed by a week of rehearsals where they work with professional actors and look at the process. They attend four dramatic sessions with a dramaturg whose job is to help with any kinks in the play, and basically prepare it for production. Professional actors will perform the play March 2 and 3 at 7:30 p.m. at the Arena Stage. In addition, Arena Stage will host two evenings of readings for the middle school and high school honorable mention plays.
Sarah also won the GMU Theater of the First Amendment High School Play Writing Competition on June 18 for a show called "Boxes," in which she also acted. The play also received a staged reading at the GMU Black Box Theater. The same play won first place in the District level One-Act Theater Competition sponsored by the Virginia High School League (VHSL). Next, the play goes onto the Regional competition.
At Hayfield, Sarah is involved in almost all of the drama productions. She recently directed the one-act play, "The Monster Tales," and played Charlotte in "Moon Over Buffalo." She copyedits for the student newspaper H2N and plans on pursuing acting and dramatic playwriting in college. Sarah is the daughter of Nita Congress, a freelance editor, and Roger Congress, who works for the FDIC.
Admission to the Student Playwrights Project performances is free, but reservations through the Arena Stage Sales Office are required. Call 202-488-3300. All performances take place at Source, 1835 14th St., N.W., Washington, D.C. Some of the plays contain mature content and language and may not be appropriate for younger children.
Performances of the winning plays are Monday, March 2 at 7:30 p.m. and Tuesday, March 3 at 7:30 p.m. The honorable mention readings for Middle School are Feb. 9 at 7:30 p.m., and the high school readings are Feb. 10 at 7:30 p.m.