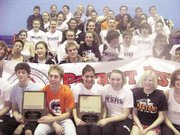 Silent moments came sparingly this past Saturday night at Lee District RECenter for the Patriot District swim and dive championships. As timekeepers and meet officials tallied results, the teams from West Springfield and Lake Braddock, two of the Northern Region's top rivals, balanced the noise from earlier with nothing but silence.
West Springfield sat and held hands on a row of bleachers located to the right of the pool's entryway as the final scores were read. Meanwhile, at a 45-degree angle to the left, Lake Braddock's swimmers and divers mostly stood and paced.
When it was announced that both the Lake Braddock boys and girls teams finished second, the decibel level in West Springfield's corner was returned to its earlier state.
"That was amazing," said senior Cory Chamberlin. "That's what we've been working for all season, and we finally got it. We've been working hard at practice, building up and dropping times, and we finally dropped enough to beat them."
The West Springfield boys team walked away with its second consecutive Patriot District title, holding off the Bruins by a score of 435.50-369. The Spartan girls team won its first district crown in 10 years with a 509.50-492.50 victory over Lake Braddock.
"This year we had a lot more connections," senior Megan Metts said. "All the freshman coming in were amazing."
"A lot came together this year where we might've had some holes," said fifth-year coach Karen Spooner. "We just filled them right in."
"We have very high hopes, and we'd like to take this to the next level," Spooner said. "This is a nice step, but we'll see what happens next year. I think this could be a good year at regionals again."
<b>WITH THE WIN,</b> West Springfield, Lake Braddock and other district qualifiers will advance to this week's Northern Region championships, which will culminate with Saturday's 5:30 p.m. final at Oak Marr RECenter.
Junior Sean Nickley finished tied for first with Lake Braddock's John McKenzie in the 200-yard freestyle with a time of 1 minute, 48.31 seconds, while senior Alex Sieracki won the 500 free (5:23.12) and junior Shinhye Won took the girls 100 breaststroke (1:05.46).
The girls 200 freestyle relay team, which consisted of Erin Fortman, Samantha Garrett, Metts and Kathryn Sieracki, took first with a time of 1:42.84.
Although the Spartans were competing with the rest of the Patriot District, for much of the night, they were ultimately competing with the Bruins. Many team members share club pools and know each other well outside of the water, but that doesn't mean those relationships were apparent Saturday night.
"I have some friends at Lake Braddock and it's fun to be able to compete with them," Kathryn Sieracki said. "But when you're racing you need to be focused on our team instead of your friends on the other team and socializing with them. You have to concentrate on what you're going to swim."
"You hear everyone," Alex Sieracki said. "It's a really big mental sport. When you hear your team, your parents and the crowd, it just gets you pumped up mentally."
<b>IN OTHER MEET ACTION,</b> the girls 200 medley relay team (Metts, Won, Shannon Yi and Erin Fortman) took second with a time of 1:52.31. Kathryn Sieracki earned second in the 200 individual medley with a mark of 2:15.93.
Colin Stephenson (23.24) and Fortman (26.03) were third in the 50 free. Nickley finished second in the 100 free (49.87), while Metts posted a third-place time (56.69) in the same event. Robert Hutchison took third in the 500 free (5:02.33).
The boys 200 freestyle relay team (Matthew Garstka, Stephenson, James Gilbertson and Nickley) took third with a time of 1:32.65. Hannah Hagy grabbed third in the girls 100 breaststroke (1:11.28).
The boys 400 free relay team (Cory Chamberlin, Hutchison, Gilbertson and Nickley) took second with a mark of 3:22.85, and the girls 400 free relay team (Sammy Kvartunas, Kathryn Sieracki, Samantha Garrett and Alex Sieracki) was third, touching the wall at 3:46.99.