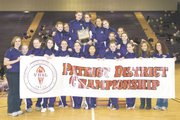 <b>Bruin Gymnasts on a Mission</b>
When the news broke that girls gymnastics may be terminated as a high school sport in Fairfax County at the end of this season, Lake Braddock coach Ellen Hagan-Bowerman had a simple message to her team.
"We go every day like it's our last and do our very best," Hagan-Bowerman said in January. "Our goal this year is to make it as fun as possible, knowing that this might be it."
Done and done. With a 136.825-110.425 edge over second-place West Potomac Friday night, Feb. 6, Lake Braddock won its straight Patriot District title and the 12th since 1995. The Bruins also owned two of the top three all-around performances.
Senior Emily Parillo took first place with a score of 37.025, finishing first on floor (9.625), first on beam (9.625), first on bars (8.275) and first on the vault (9.500) — the first such sweep in school history.
Freshman Caitlin Liberatore was third with 34.375 points. She took third on floor (9.150), tied for seventh on beam (8.075), took third on bars (8.150) and finished fourth on the vault (9.000).
West Springfield took third with 107.325 points, as Helen Kim finished ninth in the all-around competition with a score of 25.350 points.
Lake Braddock advances to Thursday afternoon's Northern Region championships, which will be held at the school and start at 3:30 p.m.
<b>Bruins Enjoy Competitive District</b>
Outfitted in Lake Braddock's colors with a set of gold beads draped around her neck, swim and dive coach Miriam Lynch didn't look like the type of person to take a glass-half-empty approach.
That's why when both her boys and girls teams walked away from Lee District RECenter Saturday night, Feb. 7 with second-places finishes to West Springfield, Lynch didn't dwell on the obvious disappointment. Instead, she was grateful for the competition.
"You always want something that makes everyone feel included," Lynch said.
Sarah Lynch (200-yard freestyle), Christina McGarry (200 IM), Tyler Ogren (500 free) all posted wins, while the Bruins had four relay teams, the boys and girls 200 medley and the boys and girls 400 free, earn first-place finishes as well.
With later start times causing panic within the swim and dive community, Lynch said that her team simply wanted to "lay it all on the line" in what is the last meet of the season for some.
"They swam like they were going to fight for it," Lynch said.
<b>Two Bruin Grapplers Post Wins</b>
Behind three-time state champion George Billy, the Lake Braddock wrestling team finished fourth at last weekend's Patriot District tournament with 110.5 points, at Annandale High School. South County won its first district title with a total of 220 points, 74.5 more than second-place Hayfield. Billy, a 119-pound senior, pinned South County's Matt Cook in only 40 seconds — his third and quickest pin of the tournament. Lake Braddock also benefited from Ross Renzi's third-period pin of Hayfield's Ronnie Ours. Ryan Renzi and Josh Park posted second-place finishes for the Bruins, who'll compete next at this weekend's Northern Region wrestling tournament, taking place Saturday at Fairfax High School.