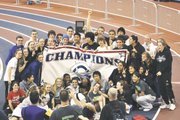 It's a good thing the outcome was not in doubt.
When Robinson senior John Ro, the first leg of the indoor track and field team's 4x400-meter relay team, became tangled with another runner and eventually tripped, fell and hurled the baton into the middle of the infield last week at the Prince George's Sports and Learning Complex in Landover, the Rams had already clinched the Concorde District title.
Minutes before, Marty Riddle, the school's director of student activities, approached head coach Mark Gleason to offer his congratulations.
"That doesn't change the outcome, does it?" Riddle asked as Ro tumbled.
Gleason assured Riddle that it didn't and Ro, following team orders to always finish a race, went on a reconnaissance mission for the lost piece of equipment.
"Every kid that we put on the track performed," said Gleason, whose boys team held of Chantilly, 122-115, to win its first-ever district title. "We stayed the course in the events that we needed to, and I think that's why when we got to the last event, the team title was already wrapped up."
Robinson's girls team finished second to Oakton, 111-102.50, and both squads will advance to the Northern Region championship meet, on Saturday, Feb. 21 at George Mason University's Field House.
<b>IN WINNING</b> the district title, Robinson's boys team benefited from the contributions of senior Fabian Bailey, who won the long jump with a leap of 20 feet, 5 1/4 inches and the triple jump with a personal-best mark of 42-01 1/2.
"I felt really good that whole week, and I was confident going into it," Bailey said. "It was just a good day."
Junior Audrey Barry and senior Kelly Kavanaugh led the Robinson girls team. Barry, who played on Robinson's Virginia AAA state champion girls soccer team this past spring, won both the 55 (7.39) and 300 dashes (41.28, tied district record).
Kavanaugh won the 1,600 and 1,000, with marks of 5:07.90 and 3:03.36, respectively, while the girls 4x400 and 4x800 relay teams posted first-place finishes.
Senior Jared Berman helped out on the boys side with 1,000 (2:34.61) and 1,600 (4:21.43) wins, and sprinter Jae Son Shim, also a senior, won the 300 with a time of 37.22. The boys 4x200 took first as well.
"Having that ability to jog around the track with that banner was pretty cool because we had not done that before," Gleason said. "The thing about Robinson is that pretty much everybody thinks of Robinson as just a cross-country and distance school.
"In recent years. we've been able to find a better balance of not just those cross-country and distance kids, but also we're starting to put in our sprints and emphasize those and get our jumpers going."
<b>IN OTHER MEET ACTION,</b> the Fairfax boys team finished seventh with 19 points, led by junior David Ladd's first-place finish in the 55 dash (6.52) and classmate Brian Hallahan's third-place leap in the high jump (5-08). The girls, led by freshman Elizabeth Nguyen's fourth-place times of 7.64 in the 55 dash and 43.02 in the 300, garnered 12 points — good enough for sixth place.
Robinson freshman Gena McCant, following a second-place in the 500 dash (1:14.83) at the Virginia Tech Invitational on Jan. 24, sprained her ankle after being bumped at the finish line and has yet to return. But Gleason hopes to have McCant available at the region meet.