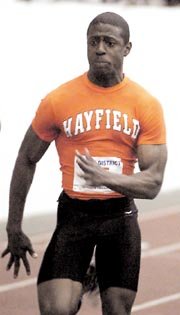 <b>Lee's Gifford Shows Speed</b>
Lee senior swimmer Steven Gifford excels at the 50- and 100-yard freestyle events, and with those less-than-a-minute-long events comes the realization that there's a much smaller margin for error.
That's why a quality start is imperative for Gifford to win a race — something that was achieved twice this past Saturday night at Lee District RECenter for the Patriot District swim and dive championships.
"In the 50, there's no room for error, and I got a perfect start," said Gifford, who won the race with a time of 21.61 seconds, his best such mark of the season. "I just tried to stay focused, and I think I did that."
"In the 100, I got a little tired at the end, but it went well," added Gifford, who won that event as well by touching the wall at 47.91.
Gifford will advance to this week's Northern Region championships, which will culminate with the 5:30 p.m. finals on Saturday at Oak Marr RECenter.
"We'll try to lower the intensity just to get some rest," said Gifford, who will swim next season at Old Dominion. "I think the competition there will help out, having other people faster than me pushing me to drop some more time."
<b>Spartans Make Strides on Track</b>
West Springfield indoor track and field coach Chris Pellegrini has spent the better part of this season trying to convince junior Paige Kvartunas that she's ready to become one of those girls.
It's not an insult. It's actually a compliment.
Pellegrini feels that Kvartunas has the ability and lung capacity to become one of the district's top distance runners, and if her performance at last week's Patriot District championships is any indication, Pellegrini is right on target.
Kvartunas won the 3,200-meter run with a time of 11 minutes, 20.76 seconds, and she finished second in the 1,600 with a mark of 5:07.61. She also was a part of West Springfield's third-place 4x800 relay team, which posted a time of 9:40.34.
"I'm trying to prove to her that she's ready to turn the corner," said Pellegrini, whose girls team totaled a school record 111 points and finished second to Lake Braddock. The boys team was seventh with 26 points.
Senior Caroline Peterson earned a first-place finish in the 55 hurdles, finishing with a time of 9.04, while the girls 4x200 relay team (Clayton, Peterson, Kara Lewis and Alex Abrahamson) took first with a mark of 1:52.68. The girls 4x400 relay team (Melanie Fish, Abrahamson, Lewis and Emily Ellis) added another first-place finish with a time of 4:13.93.
"We're not peaking yet," Pellegrini said. "We have a couple weeks to go where we're going to keep the training up, and we're not at our peak yet for the season."
The Northern Region championships are scheduled for Saturday, Feb. 21 at George Mason's Field House.
<b>Hayfield Unseated in Patriot</b>
For eight of the past nine years, Hayfield has won the Patriot District wrestling title. That wasn't the case this weekend at Annandale High School.
Though the Hawks had eight wrestlers advance to this Saturday's Northern Region finals at Fairfax High School, Hayfield finished second to South County at the district meet, 220-145.5.
Ray Borja, a 125-pound senior, pinned Weston
Lahr of South County, and classmate J.P. Ethier (130) followed with a 12-7 win over South County's Kyle Sanders.
In the 135-pound final, Hayfield senior Lewin Romero scored a 7-1 win over Annandale's Ricky Adams, and 160-pound senior Shane Shumack added a 7-3 win over fellow Atom Stacey Anderson.
Behind second-place finishes from Steven Lucynski (215) and Cheven Okonoboh (Hwt.), Lee finished fifth with 105.5 points. West Springfield's Mark Ragan (103) took third and Dan Garcia (215) was fourth, but the Spartans totaled only 28 points to finish last.