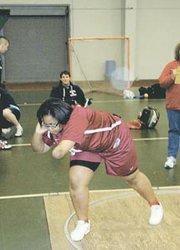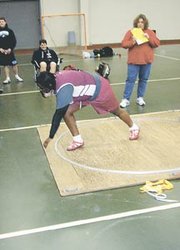 Ebonee Davis walked up to coach Sekenia Welch in between throws during last week's shot put competition at the National District indoor track and field championships and began pumping her left nub of an arm inside her shirt.
"My heart beats for you coach," Davis giggled as her teammates Elizabeth Ball and Candace Bailey were bent over laughing in the background.
Meet the Mount Vernon girl's throwers, a collection of perhaps the silliest and most talented shot putters in the entire region.
The youngest of the bunch, Davis, a junior who finished fifth with a throw of 27-feet, eight inches in last week's district meet to secure a spot in the Northern Region Championships on Feb. 21, may have the most remarkable story of them all, though.
Born without more than half of her left arm due to a birth defect, Davis has somehow made what many would consider a disability into normality. Her mother was part of Operation Desert Storm and had to take a pill to flush out her system before heading to the Middle East. At the time, she didn't realize she was pregnant with twins. Davis's sister was born legally blind, but has since regained her vision.
According to Welch, Mount Vernon's throwing coach, Davis's condition has its pros and cons in terms of the shot put. It affects her balance and weight lifting capabilities, but at the same time she has much better torque on her throws because she doesn't have to deal with moving her left arm out of the way.
"Really, it doesn't affect her much at all, she just goes out there and throws," said Welch.
"I'm used to people coming up to me and being like 'Oh she's not going to do nothing,' but as it went on, they realize I can do stuff. I'm used to having one hand," said Davis, who is also "one of the best volleyball players at Mount Vernon" during the fall, according to her teammate Ball.
<b>AND WHILE DAVIS</b> may have the most unusual circumstances of any shot putter that will compete in the coming weeks, Ball has no such complications. She just throws the approximately four-kilogram (or 8.8 pound) ball really far.
Her first-place throw of more than 34-feet, eight inches at the National District Championships was almost three feet farther than her closest competitor. Last year as a junior, Ball won the Northern Region title in the shot put and finished 30th in the entire nation.
The scary part about last week was that Ball's winning throw was about three feet short of her seed throw from a year ago.
"She's not even really achieving up to her potential and she's still dominating," said head coach Chris Loline.
Following closely on her coattails is fellow senior, Candace Bailey, who came in second in the shot put last week with a throw of about 31-feet, nine inches. She picked up the sport on a whim last year looking for something to do since she wasn't a part of any other athletic team.
"People think it's just second hand when we say we throw instead of running, but it's really tough," said Bailey.
<b>ALL THREE HAVE</b> combined to become a fun loving and point-devouring bunch for Mount Vernon this season. Out of the Majors' 58 points in the girl's team competition, the trio of shot putters accounted for 20 of them, which prompted Ball to smile and comment that, "most of our points come from the field events, not going to lie."
So it was only natural to see the three of them laughing as their competitors in the shot put stood nervously awaiting their turn. When asked to describe just how his team was able to cultivate such an unlikely — and talented — trio, Loline didn't have a definitive answer. He still couldn't get over just how lucky his team is in the shotput department.
"When you have three girls go almost 30 feet in the shot put, what more could you ask for?" he said.