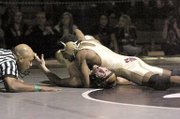 The Oakton High wrestling team had two champions crowned at last Saturday afternoon's Concorde District Championships. Cougar wrestlers Matt Patinos (160-weight class) and Chris Butters (125) both captured their respective weight-class titles.
Westfield High finished first in the team standings with 196.5 points, finishing ahead of second-place Robinson (188.5) and third-place Fairfax (119). Chantilly (85), Oakton (71), Herndon (52) and Centreville (36) finished fourth through seventh, respectively.
Patinos defeated Robinson's Wes Jones in the 160 finals. He reached the title match with wins over Chantilly's Wes Scholnick and Herndon's Adam Valcott.
At the 125 finals, Oakton's Butters defeated Westfield's Jerrod Branch in the championship match. He made it to the finals with a semifinals win over Chantilly's Lloyd Tenaglia.
Other top-four finishers for Oakton who will advance to this weekend's Northern Region Championships at Fairfax High School were David Millago, third at 215, Wade Kostkan, fourth at 152, Chris Lopina, fourth at 145 and Ethan Doyle, fourth at 140.
Herndon High saw three of its wrestlers advance to regionals. The Hornet wrestler to go the farthest at districts was Nick Ziegler, who reached the 130 finals before losing to Westfield's Brandon Berling. Ziegler made it to the title match by defeating Oakton's Ryan Wood and Robinson's Charlie Vanney.
Other place finishers for Herndon were Matt Olem, fourth at 135 and Gabe Pike, fourth at 103.