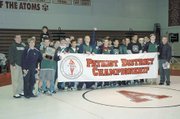 Nothing says redemption quite like smashing bricks and eating Mexican food.
After a late-season loss to Patriot District rival Hayfield, South County wrestling coach Andy Jimmo called on a yearly tradition to shake his team from its funk. On Saturday, Feb. 7, he and his wife, Lynn Jimmo, invited the team into their home for a home-cooked meal of beef, chicken and steak tacos with the gotta-have it side dish of cheese dip.
Jimmo started the tradition about two years ago and likes to end each night — not before some Nintendo Wii on his 65-inch flat-screen TV — with an inspirational message. This year's tactic? A brick.
Each Stallion was to think of his biggest "burden" entering this past weekend's district tournament. They wrote their burdens or fears on a brick, and, with administrative permission, carried them around the hallways of South County for the next four school days.
Some wrestlers felt a tinge of anxiety. Others felt significant pressure to perform up to their abilities or to wrestle a complete, six-minute match.
They literally eliminated their burdens with a sledgehammer after practice on Thursday before the tournament and figuratively did away with them by winning the school's first-ever district crown, edging Hayfield, 220-145.5.
"Burdens are bad things," Jimmo said. "I'm 34-years old, and I still carry burdens around."
"They carried the burden around with them," Jimmo said, "and I know it doesn't sound like a big thing, but carrying a brick around for five or six days becomes a daunting task."
Eight wrestlers made Saturday's set of final matches and four walked out of Annandale's gymnasium victorious, as Patrick Shaffer (103), John Fitzgerald (145), Patrick Fitzgerald (152) and Arash Katirai (171) all posted wins.
All 14 of South County's starters will advance to this weekend's Northern Region tournament at Fairfax High School.
"After that loss to Hayfield, our kids just grouped together and decided to put in that extra effort, and they were ready," Jimmo said. "They battled back, wrestled to their potential and did a great job."