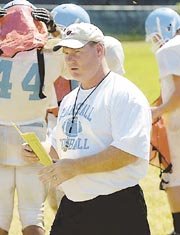 Offense has been the hallmark of West Springfield's football program lately. After the departure of 10-year veteran Bill Renner in early December, the team could take a decidedly defensive shape this fall.
J.T. Biddison, who spent the past six seasons as the head coach at Marshall High School in Falls Church, was chosen late last week to succeed Renner. A self-described defensive specialist, Biddison hopes to improve a defense that allowed 28.8 points per game last fall.
Still, Biddison doesn't want to change much from a high-flying offense that accumulated 527 total points, 5,910 yards of offense and scored an average of 43.9 points per game last season.
"I'm sure I won't have the exact same philosophies of coach Renner, but I like scoring points," said Biddison, who accumulated a mark of 26-36 at Marshall, his first head-coaching job. "I've been coaching offense the last couple years at Marshall, but my passion is more on the defensive side of the ball. So, I'll probably take a look at how the defense is run over there."
Biddison inherits a West Springfield team that finished 8-4 last season and reached the Division 6 semifinals, dropping a 49-43 heartbreaker to eventual region champion Oakton.
The Spartans will lose quarterback Bryn Renner, tailback Brandon Bailey and wide receivers Andy Stallings and Tucker Tobin to graduation, but they return backup tailback Dan Collins, who ran for 351 yards and three touchdowns during a 72-47 quarterfinal win over W.T. Woodson.
Biddison, a W.T. Woodson graduate, spent seven years after college as an assistant coach at his alma mater and then moved to Lake Braddock for three more. He assumed control of a downtrodden Marshall program and had the Statesmen at 7-3 in his fourth year.
"[West Springfield] had had a very strong program, especially in the last couple of years," said Biddison, who teaches math and special education. He hopes to land a teaching job as well at West Springfield. "I'm real excited to be a part of the Spartan community."