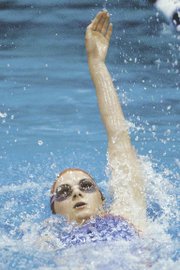 The St. Stephen's/St. Agnes boy's basketball team won its first-round IAC playoff game over Bullis, 47-42, Tuesday night. The Saints now move onto the IAC semifinals Friday night against Landon.
Against Bullis, senior Ian McLeod led SSSAS (9-14) with 10 points, while junior Jack Hamilton and sophomore Dexter Lindsey had nine and eight points, respectively. Eight Saints players scored at least one point.
SSSAS lost both of its regular season contests against Landon.
Episcopal (14-6) defeated St. Alban's, 57-43, in its first-round game and will take on Georgetown Prep Friday night. Senior Yao Sithole led the Maroon with 19 points Tuesday night.
<b>Area Wrestling Results</b>
The 2009 Virginia Independent School Athletic Association State Wrestling tournament was held this past weekend and all three Alexandria private high schools finished within the top-12 in the team competition.
Leading the way was Episcopal, who came in seventh-place overall with a team score of 136. The Maroon had no state champions, but plenty of strong showings, including third-place finishes from Quinn Caslow (112 pounds) and Alex Henry (285 pounds). Edward Pritchard (171 pounds) came in fourth place, while Hill DuBose (189 pounds) and Henry Eschlman (215 pounds) came in fifth place in their respective weight classes.
The lone Alexandria state champion came from St. Stephen's St. Agnes. Team captain and senior Everett Epstein won the 215-pound weight class crown. Other strong performances came from Tyler Haley (119 pounds) and Hank Couture (125 pounds), who both came in fifth place.
Bishop Ireton was led by Eliot Mondragon's (103 pounds) fourth-place finish. Mark Rodriguez (171 pounds) garnered fifth-place honors as well.
Meanwhile, T.C. Williams competed in the Northern Region Wrestling Championships last weekend. Omar Maknassi (112 pounds) led the Titans' contingent with a fifth-place finish. Brian Edwards (125 pounds), Conor Boyle (135 pounds), Alex Gomex (145 pounds), and Jesus Flores (171 pounds) all finished 1-2 at the tournament.
<b>Northern Region Swimming</b>
The Northern Region Swim and Dive Championships were held this past weekend and two T.C. Williams swimmers stood out amongst their peers. Senior Larry Dow, who broke two school records at last week's Patriot District meet, followed up his historic swims with a fourth-place showing in the 100-yard freestyle and ninth-place finish in the 100-yard backstroke. On the girl's side, freshman Abigail Cox came in 11th place in both the 500-yard freestyle and the 200-yard individual medley. The state meet takes place this weekend at George Mason University.
<b>Recreation Softball and Baseball</b>
Registration has begun for the Alexandria Department of Recreation, Parks and Cultural Activities' Youth Girls Fastpitch Softball and Baseball Programs and the Alexandria Little League's Youth Baseball Program for girls ages 5 - 16 years old and boys 5 - 15 years old. Anyone interested in registering should pick up a registration form from any of the neighborhood recreation centers or contact the Youth Sports Office at 703-838-4345 or go on the department's Web site at www.alexandriava.gov/recreation. Registration fee is $25.
<b>Coaches Needed</b>
The Alexandria Department of Recreation, Parks and Cultural Activities is currently seeking volunteers to coach youth baseball and softball. Criminal history background checks are required. Interested persons should call the Youth Sports Office at 703- 838-4345 or e-mail mac.slover@alexandriava.gov.