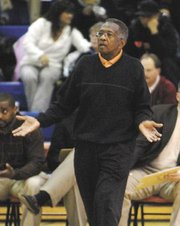 Most freshman girls basketball assistants don't have 609 wins on their résumé. The majority of them haven't been mentioned in a Hall of Famer's acceptance speech and very few, if any, have a building named after them.
Then again, Hayfield's Ron Palmer wasn't the typical freshman girls basketball coach when he applied for a position with the team in 2005.
Palmer, who's now in his second year as the head coach of Hayfield's boys basketball program, has taken a rather circuitous and successful route to his current job and it started with that consultant-like position for the Lady Hawks.
"We ran an ad for an assistant freshman girls basketball coach," said Steve Kewer, Hayfield director of student activities, "and at that point you're just looking for someone who has a little bit of experience."
That Palmer had. He coached at California's Long Beach Polytechnic High School for 25 years and amassed a record of 609-150. Morever, his teams won 19 district titles, eight region crowns and both state and national titles.
Oh, and come to think of it, Palmer also coached MLB Hall of Famer Tony Gwynn and the NFL's Willie McGinest. Gwynn even cited Palmer's influence during his 2007 induction speech.
"When I was at Poly, we were the T.C. Williams of the area," said Palmer, whose team opened its Patriot District tournament Tuesday night with a 58-34 win over West Potomac and will face Annandale Thursday night at Lake Braddock.
<b>SO HOW DOES</b> a California High School Hall of Famer, whose former employer named its gymnasium the "Ron Palmer Pavilion," end up on Telegraph Road?
In 2001, Palmer's wife, retired from a career spent as a personnel director in both the Long Beach and Pasadena school districts. But, like her soon-to-be restless husband, that didn't stop her from accepting a job at America's Choice, a Washington, D.C. nonprofit that focuses on evaluating and improving education systems.
Ron Palmer, 70, was still a few years away from retirement, so it was decided that Marietta Palmer would take the job and the next three years were spent flying across the country to see each other on breaks and holidays.
Then in 2003, Palmer retired and moved with Marietta to a house next to Edison High School in Alexandria. However, Palmer's granddaughter was diagnosed with cancer and he spent all of 2004 back in Long Beach.
When his granddaughter eventually succumbed to the disease, Palmer returned to the area in 2005 and answered Kewer's ad for an assistant freshman girls basketball coach.
"It was a good experience because I don't think we won a game that year," Palmer said. "You need something like that every once in a while to put everything in perspective."
<b>PALMER STARTED</b> under head coach Richard Carlock, who saw an opportunity to learn a thing or two about the profession. Carlock, now in his fourth year, has been trying to mold the Hayfield girls program into a consistent winner.
"I spoke with him on a daily basis, trying to persuade him to help me on the girls varsity side," Carlock said. He's talked to me about being patient. Coming from a man like that, that's very strong to me because he's been there."
From his initial job on the freshman team, Palmer took a varsity assistant job with Hayfield's boys team the next year. Then after head coach David Abella stepped down prior to the 2007-08 season, Palmer interviewed for the head-coaching job.
Almost comically, Palmer didn't list his 609 wins during the interview process. He also didn't mention the Ron Palmer Pavilion or that he used to make Tony Gwynn run suicides.
"He's a modest man because he never talked about that at all," Kewer said. "When [Abella] took over, we had just been split with South County, so we lost players, people and population, and coach Palmer has brought stability back into the program"
"Basketball is basketball, and if you love basketball you love to be around it," said Palmer, whose team was 14-8 last season and has a record of 18-5 entering Thursday's matchup with Annandale. "The whole thing about basketball, it's teaching.
"A lot of people refer to it as coaching, but if you put the emphasis on teaching then the experience is the same. If you only worry about winning, you'll never understand what basketball is all about in terms of relating to kids and helping them grow."