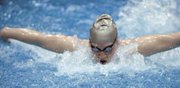 The Northern Region swim and dive championships were held this past weekend at George Mason and both Yorktown and Washington-Lee had swimmers and divers qualify for the state championships.
The Yorktown girl's team finished in seventh place in the Northern Region with 140 points. The 200-yard medley and 200-yard freestyle relay teams obtained or improved their state meet qualifying times. The relay teams will join the individual event qualifiers, Maren Taylor (Diving and 50 free), Abigail Ortmayer (200 individual medley and 100 breast), and Kaitlin Wolla (100 Fly), at the state meet. Kaitlin Wolla set a new team record in the 100 Fly with her 57.08 time (breaking the 1986 record of 57.20 by Christine Smith).
The boys team finished in 23rd place in the region and Andrew Leach advanced to swim at the State Meet in two events (200 and 500 free). Andrew joins Brian Coonce (Diving) on the State team.
The Washington-Lee boy's team came in 14th place overall, while the girl's weren't far behind, coming in 19th place in the team competition.
Junior Freddy Crawford led the way for the boy's, finishing in fourth place in the 200-yard freestyle with a state meet-qualifying time of 1:44.03. Crawford also had a state qualifying time in the 100-yard freestyle. Meanwhile, freshman Carl Buergler was impressive, coming in fourth place in the boy's diving competition. Junior Jake Huston also notched a state qualifying time in the 100-yard breastroke.
On the girl's side, senior Sarah DiNardo qualified for the state meet in two events, the 200-yard freestyle (4th place at regions) and the 100-yard butterfly (sixth place at regions).
The state meet is scheduled to take place this Friday and Saturday at George Mason University.