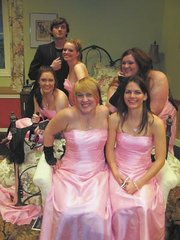 Alan Ball, the man who scripted HBO's "Six Feet Under," "True Blood," and "American Beauty," wrote "Five Women Wearing the Same Dress" — the play that CCT with 2nd Flight Theatre Company is staging Feb. 20-March 1, at the Waddell Theater, Northern Virginia Community College, Loudoun campus.
The comedy is set in an upstairs bedroom of an opulent Tennessee mansion during the wedding reception of the oldest daughter of the house. The five bridesmaids retreat to the bedroom to escape the reception and their own demons. Throughout the play, the audience learns why each woman wants to be anywhere but at the party.
"Five bridesmaids of Bridezilla hide out in an upstairs bedroom and as they spend time together, they let down their guards a little and secrets are revealed and comedy ensures," director Susan Devine said. She chose the play because "there's some good comedy around weddings and Southern women." Fifty women auditioned for the five women roles, she adds.
ERIN ANDERSON KING, 26, of Brambleton, plays the self-centered Georgeanne who is in her own little world. She's been friends with the bride since high school but they've fallen out of touch.
"Pretty much everything that comes out of her mouth is ridiculous. She spends a good portion of her time drunk and/or crying," she said.
The role is a shift for her in that she's never played the funny girl. "It's something out of my element," she said. To help her prepare, she watched reruns of "Golden Girls." And prior to going on stage, she literally spins around. "I discovered the best way to feel drunk on stage is to spin in circles backstage — so the next time I go on stage, I'm good and loopy," she added.
The technical writer by day has been with 2nd Flight since 2005, which she calls an "extremely welcoming group of people."
Betsy Eames, 25, of Reston, plays Frances, a sweet and sheltered girl who wants to be accepted by the others. She meets a bartender and slowly comes out of her shell. "I like her because she's so dorky and I'm pretty dorky so it's a good fit," said Eames. She said she based her character on the Darryl Hannah character in "Steel Magnolias."
Her challenge is that she doesn't always agree with everything she says, "She has some pretty strong opinions." Eames works in software development by day and said she feels "like a princess" working on her first show with CCT. "Everything is so organized and so professional," she added.
LAUREN FELIZ, 26, of Fairfax, plays the bride's little sister Meredith, a rebel who is trying to gain independence from her family. "I get to do all the bad stuff, pretend to smoke pot and curse a lot, which I don't do in my normal life," she said.
The fun part is "It's kind of revisiting what you were like in high school," she added. And the challenge for her is "she's experimented with some rough stuff in her life and she doesn't want to be seen as a victim."
The government contractor and new mom said this is her second show with 2nd Flight Productions. "I've made some lifelong friends and that's awesome."
Brittany Washington, 21, of Herndon, plays Mindy, the lesbian sister of the groom who hates the bride. "She's very matter of fact and likes to tell things as they are," she said. Her challenge was learning all the lines after she came into the show a month late due to conflicts.
This is the second production with 2nd Flight for the human resources administrator by day, who added she's not much like her character because "I shy away from confrontation."
Melissa McConnell, 25, of Fairfax, plays Trisha, who she based on Samantha from "Sex and the City." She describes her role as "a bit of a slut but she makes no apologies for it."
She gets labeled as being promiscuous. "She does what she wants and she doesn't care what anybody else thinks," she added. "She's sexually explosive."
The fun part of the role? "I really enjoyed delving into this character who is seriously my complete opposite," she said. "And doing a Southern accent is what makes it fun."
Her challenge: "She is Miss Cool. She is Miss Sophisticated. She's my opposite." For her day job, McConnell works as a processor at Wachovia Mortgage.
Zachary Lanouette-Opheim, 20, of Sterling, plays Trip Davenport, the friend of the groom and usher who is the only male in the cast. His Atlanta playboy-slut character falls for Trisha who ends up being just like him.
"I've never acted before," he said. "I'm basing him on myself a little bit, that's the easiest way … if I were in his situation, what would I do."
Being surrounded by girls is a refreshing change, he said. He calls his cast mates "Really helpful. They're all really fun … a lot of my best friends are females." A full-time student at NOVA, he plans to transfer to VCU to study premed.