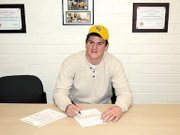 Langley High football has become associated with talented offensive linemen during coach John Howerton's six years in charge of the program. Opposing defenses realize they will have their work cut out for them in getting the best of Langley's physically strong and skilled offensive linemen.
Langley, during Howerton's tenure, has had 10 offensive linemen receive scholarships to play Division I collegiate football. That is fitting. Howerton himself was a standout offensive lineman at Shepherd University (W.Va.), where he is a member of the school's athletic hall of fame.
"This has been a bright spot for us," Howerton said of Langley's offensive lines over the years. "These kids don't necessarily get publicity of any kind. It's unusual to get that many [moving on to the college game]."
<b>THREE-YEAR STARTING</b> center Scott Jones recently committed to play at James Madison University on a full scholarship. The 6-foot-5, 250-pound Jones was named First Team All-State at his position following his senior season last fall.
Jones worked hard throughout his high-school football career, working on the fundamentals of his game at center position and getting stronger physically by regularly attending weight training sessions. He got better and better over the years.
"He's kind of a late bloomer," Howerton said of Jones. "He was always a little light [weight wise]. He wasn't on everyone's recruiting list early. He gained weight [in recent years]. He is a phenomenal athlete and just scratched his true potential here. JMU saw it."
Jones was an all-around contributor during his senior season. Along with his leadership and prowess at center, he also was a standout defensive end and special teams' player as well. He led the Saxons in tackles from his defensive end position and also blocked seven kicks, three punts, on special teams.
Another standout lineman/receiver for Langley the past couple of years was senior Chris Sievers, a tight end who also saw some time at fullback. Sievers, the son of former NFL tight end Eric Sievers, caught 30 catches for 327 yards last fall. When he was not running pass routes, he was helping the Langley offense move the football with his crisp blocking.
Sievers will bring his talents to the Shepherd University football team next school year. He accepted a partial scholarship to play the sport at the NCAA Division II program last week.
"He's been a great athlete for us and has excellent speed," Howerton said of Sievers. "He is in-between size wise [at 6-1, 215] and was not recruited by many schools."
Those other schools might have lost out on a gem in Sievers, a hard-working three-year Langley starter who earned First Team All-Liberty District accolades last season.
Howerton believes Shepherd will utilize Sievers at h-back, a position that combines the skills of a tight end and fullback.
<b>ANOTHER SENIOR SAXON</b>, right guard Garrett Moore, will play his college football at The University of Pennsylvania, a private school in Philadelphia and an Ivy League member. Moore played at tackle position at Langley in both his sophomore and junior years before moving to guard for his senior year. The University of Richmond, which captured a national football championship this past season, offered Moore a scholarship, but Moore ultimately elected to become a Duke in Harrisonburg.
"He's an aggressive kid [on the line], is very smart and has excellent line technique," Howerton said of the 6-4, 250-pound Moore. "He gave us a lot of experience on the offensive line. He's got a good mean streak and will come off the line and try to punish an opponent."
Moore's older brother, Marshall Moore, is an offensive guard at Brown University (Providence, R.I.), an Ivy League school. Marshall Moore was a First Team All-State player at Langley.
Recently signing to play at Division III Guilford College (N.C.) was Langley senior Bo Butcher, a 6-3, 305-pound right tackle who, with his military family, moved to the Northern Virginia area from Europe last August just as the new football season was getting underway. Howerton said it took Butcher a while to get acclimated to his new football surroundings. But once he did he was a fine player.
"He had a slow start but became very consistent," said Howerton. "He caught on quickly but it hurt him not being a part of the system [in prior years]. I thought he had a good season and improved each week. He's a classic offensive lineman and takes pride in his position."
Langley senior Martin Petras, Langley's left tackle last season, is thought to be leaning toward attending and playing football at Washington & Jefferson College, a Division III school located 30 miles southwest of Pittsburgh. Petras is one of those players who worked extremely hard throughout his high-school career before earning a starting role for the first time as a senior.
"He's been in the program [over the years] and worked extremely hard in the weight room," Howerton said of the 6-5, 250-pound lineman whose family is from Czechoslovakia. "He had a very good senior year. He's aggressive and has good quickness."
Howerton is proud of all of these senior linemen who will graduate this spring and go on to play football in college.
"They are students first and want to go on to these academic schools," he said.
<b>NUMEROUS LANGLEY</b> High football linemen have gone on to successful collegiate football careers in recent years. Jeff Allen, a 2005 graduate, is a junior at Elon University, a private school in North Carolina. A starting lineman, Allen will begin his senior season next fall. As a college freshman a few years ago, Allen earned a starting position, which resulted in an eventual scholarship.
"He's a great kid and hard-nosed," Howerton said of his former player. "He's the most successful [lineman] we've had at the college level."
Another '05 Langley graduate, Travis Benson, is a student strength coach at Villanova University (Philadelphia). Benson is a former center for the Wildcats who saw his collegiate career end early as a result of a knee injury. But he remains a part of Villanova football in his new role.
Other former Langley linemen who went on to play college football include Princeton graduate Matt Murphy, who played a guard position for the Tigers; John Pedersen, a current tackle at Yale; Jon Shafran, who played his final senior season at William & Mary this past fall; Mike Cummings, a tight end at Dartmouth; and 2008 Langley graduate Will Wilson, who played for the Army prep school team this past fall and looks forward to the next four years as a West Point player.