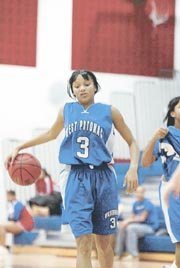 The odds were certainly stacked against the No. 8 seed West Potomac girl's basketball team heading into Tuesday night's first-round Patriot District playoff game against No. 1 seed T.C. Williams.
The Wolverines had just one win on the season and were riding a 14-game losing skid. Ironic, given the Titans came into the match-up sporting their own 14-game winning streak, not to mention a 38-game winning streak against Patriot District foes.
It all added up to another dominating T.C. Williams performance, as the Titans continued their march through conference foes by defeating West Potomac, 77-13, to advance to Wednesday's semifinal round.
Senior Monica Fikes led the Titans with 16 points and nine rebounds, while senior Khalia Boston chipped in with nine points. Star Tierra Ruffin-Pratt had just six points, but sat out much of the second half.
Freshman Melanie Boykin and senior Kelly Wood both had four points apiece for West Potomac.
"We're still alive in the tournament, that's the most important thing," said T.C. Williams coach Cavanaugh Hagen, whose team faces Annandale Wednesday night in the semifinal round. The finals are scheduled to take place Friday night at Lake Braddock.
<b>FOR WEST POTOMAC</b>, the loss ends what can only be described as a season to forget. The Wolverines won just one game, none of which came against district foes. But coach Michael Weber is looking forward to next year after watching several of his younger players progress despite the lack of positive results.
In particular, Weber pointed to the play of junior Kiara Artis, who was named to all-Patriot District honorable mention after averaging more than seven points per game this season.
"She came into her own as the season went along," said Weber.
The Wolverines' two freshmen — Boykin and Caroline Kelly — also merited praise from the coach for showing promise in some adverse conditions. He now looks to the offseason to get the West Potomac program back on track.
"If we had played more as a team, and we did in certain spots, but when we played as individuals it tore us apart," said Weber. "I'm really looking forward to the offseason so we can get some things like team camp going."
<b>THE WOLVERINE BOY'S</b> season also came to an end Tuesday night, as No. 7 seed West Potomac lost to No. 2 seed Hayfield, 58-34, closing the door on a season that didn't quite live up to its promise.
After beginning the year with a solid 5-4 record, West Potomac lost 11 of its last 12 games. The Wolverines won just once in Patriot District play — a 63-55 victory over South County on Feb. 3.
On the bright side, next year will bring the return of now-junior Martez Redfearn, who led West Potomac (6-15, 1-12) with 11 points against Hayfield Tuesday and averaged more than 15 points per game overall. Sophomore Daryl Copeland also showed promise throughout the season, averaging 12 points per game.
By way of their first-round exits from the district tournament, neither the boy's nor the girl's team advances to next week's Northern Region Tournament.