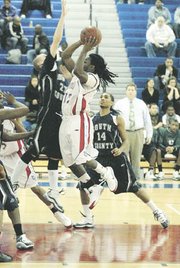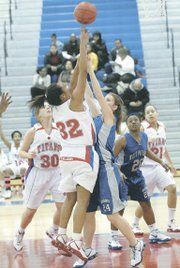 T.C. Williams girl's basketball coach Cavanaugh Hagen almost cringes when the thought of last year's undefeated team losing in the first round of the Northern Region tournament is brought up. Hagen was an assistant for that squad and remembers how the focus had been so intently on getting to the state championship, it made ending the season earlier than expected that much harder to handle.
Much of the blame for that defeat to Robinson falls on the then-injured shoulder of star Tierra Ruffin-Pratt, who missed the game after dislocating her left shoulder in the Patriot District finals.
Healthy and riding a 15-game winning streak after blowing out West Potomac, 77-13, Tuesday in the first round of this year's Patriot District tournament, Hagen, Ruffin-Pratt, and the Titans have redemption — one game at a time — on their minds.
"We're excited, we've been waiting for the postseason for awhile," said senior Monica Fikes, who led No. 1 seed T.C. Williams against the eighth-seeded Wolverines with 16 points and nine rebounds. Earlier this week, Fikes was named second-team all-Patriot District. "It's gotta be one game at a time, but we're hoping to get the state title, too. … I've only been thinking about what I need to do differently [this year]."
"I think they know where we stand and where we want to be," said Hagen of her squad's mindset. "As long as we know that, I think we'll be fine."
THE TITANS haven't lost since before the New Year and for the second-consecutive season went undefeated during regular season Patriot District play. The team has now won 39 straight district games.
Hagen said she has only brought the streak up once this season, during a 46-40 win over South County earlier this month when T.C. Williams (19-4 overall, 13-0 Patriot District) looked sluggish during the fourth quarter. She emphasized the high standards that the program has set for itself, but she believes those expectations fuel them. "We have a record to uphold," she said, "but I don't want them to feel scared of it."
What the rest of the region should be afraid of, though, is the fact that despite losing eight seniors from last season's team, this year's version of T.C. Williams girl's basketball appears to be playing its best with the pressure of the postseason beginning to mount.
The team will face Annandale Wednesday night in the district semifinals, after the Gazette Packet's press time. The winner would move onto the finals, which are scheduled to take place Friday night at Lake Braddock.
The Titans have already qualified for next week's Northern Region Tournament, where they will return to exorcise some long time demons.
"I think about [last year] all the time," said Ruffin-Pratt, T.C. Williams all-time leading scorer. Last week, she was named the Patriot District Player of the Year and had her No. 4 jersey retired during Friday's regular-season finale against Hayfield, a game in which she scored 40 points. "These games are going to be the last of my high school career … and I didn't like the feeling of losing."
<b>THE T.C. WILLIAMS BOY'S</b> team also entered the Patriot District tournament on a historic streak, having won 67 consecutive games against district foes. The No. 1 seed Titans upped it to 68 straight victories Tuesday, winning their first-round game against No. 8 seed South County, 82-50. Senior Marcus Via had a game-high 18 points, while co-Patriot District Player of the Year Edward Jenkins chipped in with 14 points.
But unlike last year's state-title winning squad that just seemed to dominate foes, these Titans have had to persevere much more during the regular season. T.C. Williams went 5-1 in games decided by five points or less this year, including two nail-biting district wins over No. 2 seed Hayfield and a one-point victory over Annandale.
Although T.C. Williams (21-2, 13-0) appears to just be rolling along once again, coach Julian King said the bevy of close calls has helped his team mature since many of its key players didn't get much playing time during last season's playoff run.
"A lot of these guys, it's their first time with large roles on this stage," said King. "The big thing with them is the experience factor and I think those close games really helped us out in the experience department."
The Titans will take on Lee in the semifinals of the Patriot District tournament Wednesday night, after the Gazette Packet's press time. The tournament finals are scheduled to take place at 9 p.m. at Lake Braddock. The Northern Region boy's tournament begins next week.