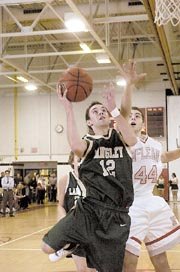 The McLean High boys basketball team was scheduled to begin play in the Liberty District tournament earlier this week with a first-round game at South Lakes. The Highlanders (7-16) entered the district tournament as the No. 7 seed, while South Lakes is a No. 2 seed.
A year ago, McLean, as a No. 6 seed, upset No. 3 South Lakes. The Highlanders ended up going to the district finals before losing to Langley.
McLean, earlier this week, needed to defeat South Lakes in order to qualify for next week's 16-team Northern Region tournament. For the loser of the McLean-South Lakes contest, the season will be over. The winner, meanwhile, will advance to Wednesday's semifinals against the Langley (No. 3 seed) versus Marshall (No. 6) winner. The district title game is scheduled for this Friday night at South Lakes.
W.T. Woodson is the tournament's No. 1 seed.
McLean, coached by Kevin Roller, won four district games during the regular season, defeating Jefferson twice and also gaining wins over Madison and Stone Bridge. The Highlanders completed the regular season with a 68-65 home loss to South Lakes last Friday night. McLean senior guard Peter Brosnan scored 21 points for the Highlanders. For South Lakes, senior guard Travis Williams scored a game-high 26 points.
<b>The No. 5 seed McLean</b> High girls were set to play Madison (No. 4) in a first-round game of the Liberty District girls tournament earlier this week. The Highlanders lost at South Lakes, 51-38, to wrap up the regular season last Friday night. Three Highlanders scored in double figures in that game — junior forward Melissa Wilson (12 points), sophomore guard Andie Romness (11) and senior guard Caity Flint (10).
McLean went 7-7 in district play this winter and was 12-10 overall going into the postseason. Prior to last Friday's loss to regular season district champion South Lakes, the Highlanders had won back-to-back games over Stone Bridge and Marshall.
<b>THE NORTHERN REGION WRESTLING</b> tournament took place last weekend at Fairfax High School. Westfield High won the team title with 220.5 points, ahead of second-place Robinson (198) and third-place South County (139). The fourth-place team finisher was Hayfield (110.5), followed by fifth-place Fairfax (89) and sixth-place Annandale (85).
Langley High's David Helmer captured his fourth career region title with a victory at the 152-weight class. The senior defeated South County's Patrick Fitzgerald, 7-3, in the finals. Also from Langley, Anthony Kotoriy (103-division) finished second. He lost his finals match to Robinson's Jake Smith, 1-0. Marshall's Andrew Embree was a second-place finisher at 215-weight class.
McLean's Palmer Dickson finished third in the 119 division. Langley's Jay Ives finished fifth at 130.
The state AAA wrestling championships will be held this weekend in Salem.
<b>THE NORTHERN REGION SWIM</b> and Dive Championships took place last weekend at Oak Marr Recreation Center in Oakton. The Langley High girls team finished third overall with 198 points, finishing behind champion Robinson (301) and second place Fairfax (222).
The Langley boys, meanwhile, finished fifth overall with 167 points. Oakton won the boys title with 232 points, followed by second-place Robinson (230.5), third-place Madison (205) and fourth-place Fairfax (186).
McLean's Eva Greene won the girls 100 back event and was second in the 100 free. Teammate Margaret Harlow was third in the 500 free.
For the Langley girls, Jayme Katis was third in the 200 free and fifth in the 100 free. Other Saxon girls place finishers were Megan Howard (fourth in 50 free); Kim Pilka (third in 1-meter diving); and Jessica Hawken (fourth in 100 fly). The Langley girls 200 free relay team of Hawken, Victoria Snare, Megan Howard and Katis was second.
On the boys side, Langley's 200 medley relay team of Stephen Richards, Chuck Katis, Alex Brumas and Chris Barnard finished second. Individual place finishes for the Saxons came from Richards (second in the 200 IM); Chuck Katis (second in 100 breast, fourth in 200 IM); and Ryan Natal (fifth in 100 fly).
McLean's Charlie Putnam was second in the 100 back and Marshall's Cyrus Hashemi was second in the 200 free and third in the 500 free.