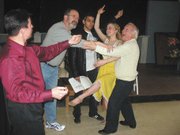 The Springfield Community Theatre is staging a stylized version of the play, "The Fantasticks."
The musical originally opened off-Broadway in 1960 with a 25-year-old Jerry Orbach (think "Law and Order") as El Gallo. It has a small cast, sparse scenery and realistic people. The intention is an open stage surrounded on three sides by audience members. Characters speak to the audience upon entrance to the stage. Actors never leave the stage, but sit in the unlit area or turn their backs to the audience.
<b>
"EVER SINCE </b>it came out, 'The Fantasticks' has been playing somewhere in the world every day all these years," said Donald Neal, director, who has been in community theater for 60 years. Depending on one's frame of reference, he said the musical is either a fable or a fantasy.
The play is about two fathers who have a son and daughter who are young teenagers who fall in love. The fathers forbid the relationship which makes the two lovers want to see each other even more.
Celebrating its 50th anniversary this year, the Springfield Community Theater has rehearsed for three years at Immanuel United Methodist Church in Annandale and this is its first season at its new performance venue — The New School in Fairfax.
"It's kind of been a moveable feast with an uncertain season," said Neal. "We have performed in churches, in schools, even the parochial schools. We have a new board and we are pulling the theatre back together.
"This season, we're doing three family shows to bring our audiences back to let them know we're alive and kicking."
Performances are set for Feb. 27, 28; March 6, 7, 13, 14 at 8 p.m. and Matinees on March 1, 8, 15 at 3 p.m. at The John Swazy Theatre at The New School of Northern Virginia in Fairfax.
Ticket prices are $15, $13 for students and seniors; $10 for groups of 10 or more. For reservations, call 703-866-6238.
Christina Kidd, 15, of Fairfax Station plays Luisa who's in love with Matt, the boy next door. "She's romantic and dreamy and she kind of loses her mind," Christina said of her character. "She has these crazy daydreams about how the boy she loves in a hero."
The fun part, Christina said is that "She wants to be a princess to have her happy ending. … She imagines her life in a more romantic way than it really is."
This is Christina's first show with the Springfield Community Theatre and her first comedy. She's been dancing since she was 4 and taking voice lessons since age 10. Christina is homeschooled and plans to study musical theater in college.
Andrew Ennis, 20, of Annandale plays Luisa's love interest Matt. "This is the first time he fell in love," said Ennis, who works in retail. "It hit him really hard."
<b>
HIS BIGGEST</b> challenge Ennis said are the two big monologues that he has by himself. He says he loves community theater, having performed in about 20 plays counting high school. He aspires to be a professional actor on Broadway. "They're good people and very supportive," he said of his colleagues.
Fred Lash, 64, of West Springfield plays the aging actor Henry who is part of a Shakespearean travelling troop.
"He's an optimist. He sees everything in a grand and glorious way," says Lash, who works at the U.S. Department of State, office of press relations.
His biggest challenge the Indiana native said is "keeping my Shakespearean accent and not slipping into my 'Hoosier-ese.'"
Lash describes the Springfield group as vibrant. "Community theater should be fun because you don't get paid for it."
Jon Roberts, 60, of Great Falls plays the role of Hucklebee, Matt's father who's obsessed with gardening. He's plotting to have his son marry his next door neighbor's daughter.
Roberts' biggest challenge is making sure the dance numbers are as absurd as they need to be. "It's a total change from my day job, which is why the whole thing is fun," said Roberts, who works as a patent lawyer in Reston. "In this show, you're permitted to be somebody totally different."
He particularly likes Springfield Community Theatre because "You get an opportunity to do many different things which is fun," he adds.
Joseph LeBlanc, 65, of Arlington plays the girl's father Bellomy, who's trying to arrange his daughter's life. "So as fools, they make foolish plans, which, of course, turn out disastrously at first, but this being a romantic comedy, eventually works out."
LeBlanc said that he enjoys playing the comedic role. "I like comedy and clowning, but comedy assumes that they'll laugh," says LeBlanc, who teaches AP American History at Bishop O'Connell High School.
George Willis, 46, of Springfield plays El Gallo, the narrator/bandit and catalyst in the show. "He plays the closest thing to a villain. He's manipulative and mysterious and helps facilitate the whole ruse," said Willis, who works as an engineering consultant.
The fun part for him is "I'm the guy who knows what's going on in everything. With lots of stage direction, I stand there and look good."
<b>
THE CHALLENGE </b>is "to act like I'm suave and debonair is not me … so to act suave and sophisticated is real acting."
Eleni Aldridge, 52, of Alexandria, plays Mortimer, an actress who specializes in dying on stage. "The character's supposed to be British and she's a sidekick of Henry." Aldridge said that she's part of Henry's troop and they go from venue to venue performing, and in this play they're hired to abduct Louisa.
"There's a lot of physicality to the character, to the dying, abduction and fighting," said Aldridge, who works as an illustrator.