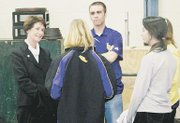 With two sports doubling as proposed budget cuts, Fairfax County Chairman Sharon Bulova (D-At-large) chose to see one of them up close. The newly-elected chairman by George Mason University this past Saturday for the Northern Region indoor track and field finals.
Bulova, an avid runner, touched on a variety of topics, including her desire to eventually have a facility to rival the Prince George's Sports and Learning Complex here in Fairfax County, as well as how carefully the board is examining the upcoming budget, which should be released in May.
<b>So you say you're an avid runner?</b>
"I'm not a long-distance runner, and I usually only do two or three miles [at a time]. But it's part of my life, and I try to do it as many times a week as I can. I'm aware of what running means.
"It sets you on a lifetime of appreciation for fitness and a lifetime of integrating fitness into your everyday life. You can always run. You don't need special equipment. You can walk out the door and go."
<b>Crafting a logical, effective budget</b>
"Right now, with the budget, we'll be considering changes in the level of service, some reductions and some elimination of various programs and services that Fairfax County provides.
"I know that indoor track is one of those potential reductions, so we need to be careful. All services are not equal, and we also don't want to un-do something that would be difficult to recapture at a future time."
<b>Keeping fitness in Fairfax</b>
"A couple of years ago, we were working with a private partner to create a 'sportsplex' in the Laurel Hill/Lorton area. Unfortunately, it didn't work out. The private partner was not able to pull things together, but eventually we will have a sportsplex.
"In order to make that happen, we need a private partner to partner with Fairfax County. [Attending the meet] gives me a greater appreciation for what's needed as far as a future sportsplex somewhere in the county."