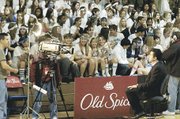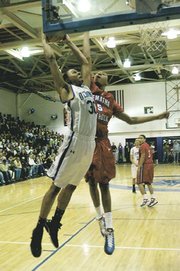 If the huge television production truck idling outside the Bishop O'Connell gym wasn't enough of a clue that something out of the ordinary was going on at the Arlington private school last Tuesday night, those in attendance only had to turn the corner towards the gym doors to have their suspicions confirmed.
On the entrance were two big signs that read "Game Sold Out," while extra tickets to the pivotal WCAC regular season game about to begin inside between O'Connell and rival DeMatha were being purchased for four and sometimes five times face value.
It was all a part of ESPN's Old Spice High School Showcase, as the Knights and Stags did battle in front of a raucous O'Connell crowd and a national television audience watching on ESPNU.
"Everyone has been going crazy, I've never seen this many people at a game," said O'Connell student and spectator, senior Billy McCarthy. According to McCarthy, tickets went on sale at 9 a.m. the previous Thursday and were sold out within the hour. "This game, you just didn't want to miss it," he said.
<b>ALTHOUGH THE KNIGHTS</b> ended the night on a losing note after falling to DeMatha, 64-53, it did nothing to dampen the mood of the filled-to-the-brim gym. Students began tailgating soon after school ended and filled their section almost three hours before the 9 p.m. tipoff.
"Atmosphere-wise, this was second to none," said ESPN analyst and director of scouting for Scouts, Inc. Paul Biancardi. "I think this ranks up there with any game we've had."
To set-up for the game, ESPN officials did what they call a "sight-and-survey" in the weeks leading up to the contest, where they took pictures and notes of the O'Connell gym to determine where all their equipment would go.
The O'Connell athletic department built temporary scaffolding that took up parts of one side of the gym's bleachers to hold ESPN's main cameras. The production crew had the same amount of cameras it would for a standard college game. There was also a makeshift announcing table with sponsor banners hanging throughout.
The hardest part, though, is getting relevant information about everyone involved. When broadcasting college games, ESPN has the benefit of sports information departments that have all sorts of stats, media guides, and bios already made up.
For last Tuesday, producer Darren Chiappetta had to literally send out questionnaires to each player. There was also a conference call with both O'Connell coach Joe Wootton and DeMatha's Mike Jones beforehand.
"The one thing that is great about these venues is sometimes they're tough for television, but as you saw in there [last Tuesday], it's such an intimate atmosphere and such a great environment that I think on TV it looks as good or better than a professional stadium," said Chiappetta.
<b>THERE WERE SO</b> many different storylines heading into last Tuesday night's pivotal WCAC boy's basketball game between O'Connell and rival DeMatha, it's no wonder ESPN's cameras decided to make their presence known on the Arlington campus.
Wootton's father, Morgan, is one of the most legendary high school coaches ever, having won 1,274 games as head coach at DeMatha, which included four seasons coaching his son. Meanwhile current DeMatha coach Mike Jones was teammates with Joe Wootton at DeMatha and the two graduated together in 1991. Not to mention both teams happen to be two of the best in the area and the country.
DeMatha's Quinn Cook had a game-high 25 points, 19 of which came in the second half, to help secure the victory for the Stags — their second win over the Knights this season. O'Connell's Kendall Marshall had 14 points, while sophomore Jordan Burgess added in 13 points and seven rebounds.
"It's great for the game of basketball when you can get high school games on TV," said Marshall, a junior who is committed to play at North Carolina. "It gets us some nice exposure and it's fun. We got a lot of people to come out to support us and it was a great feeling out there."
As a result of the loss, O'Connell (21-7 overall, 14-4 WCAC) will now have the No. 3 seed in this weekend's WCAC Tournament.