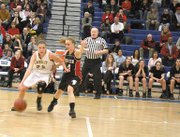 Perhaps no high-school girls basketball team in the Northern Region has turned things around this season like the Madison girls.
The Warhawks, who lost their first five games and were 2-7 at one point under first-year head coach Kirsten Roberts, have since settled into one of the steadiest teams around. Madison won eight of its final 12 regular season games before reaching the finals of last week's Liberty District tournament as the No. 4 seed.
"They're playing together and they're playing tough defense," said Roberts, who has a vastly different team than last year's powerhouse Madison squad that went 26-2 and reached the Northern Region semifinals under former coach Denise Weinig. "They have learned how to work together and to do what [needs to be done] to win a game."
<b>MADISON, WHICH</b> was 10-11 entering last week's district tournament, finished the regular season with a 48-41 loss at Woodson Feb. 13, but came back strong with consecutive wins at districts. In a first-round game, the Warhawks defeated visiting No. 5-seed McLean, 61-48, Feb. 17. Then, two days later on Thursday, they upset top- seed South Lakes (19-3) by a 41-39 score at the Seahawks' spacious gymnasium in Reston. That put Madison into Friday night's title game against No. 2 Langley.
In the win over South Lakes, Madison, which had lost to the Seahawks twice in the regular season by five and seven points, respectively, jumped out to a 23-17 halftime lead. From there, the Warhawks went on to win the close affair. Senior wing Danielle Landry led Madison with 12 points. Junior guards Erin Kavanaugh and Khristin Kyllo scored eight and seven points, respectively, and sophomore forward Anna Jay added six.
South Lakes, which has experienced a dramatic turnaround under fourth-year coach Christy Winters Scott, had just three players get into the scoring column against the Warhawks — team tri-captains Jasmine Jones (16 points), Kacey Liscomb (12) and Kelcyn Manurs (11), who was recently named Liberty District Player of the Year.
South Lakes won three, four and 11 games in its first-three seasons under coach Winters Scott. Then, this season, the Seahawks broke out to become one of the region's top-tier teams. South Lakes' only two regular-season losses came to district foe Langley. Winters Scott, as a result of her team's outstanding play, earned District Coach of the Year honors.
Roberts, the Madison coach, knew her team had a difficult task going into the district semifinals meeting against South Lakes last week.
"It's a tough draw," Roberts said prior to the game. "They are a very talented team with lots of good guards. Coach Winters has done a good job. [Point guard] Manurs is a good leader, plays good defense and looks to distribute. They are hard to beat. They are aggressive and quick."
<b>MADISON'S OPENING</b> round win over McLean was huge because it advanced the Warhawks to the semifinals round while also assuring them of a spot at this week's 16-team region tournament. McLean, with the loss, saw its season end at 11-11.
"It was one of the first times the girls have played tough defense for [the full] four quarters," Roberts said of the win over the Highlanders. "McLean is a tough team. They are all over the floor, they box out and they play hard."
Roberts, who was head coach at McLean from 2000 through 2004, said her team shot the ball well in the win. Kavanaugh and Landry both scored 19 points and Kyllo had seven.
"We shot the ball better than we normally do," Roberts said. "We had a lot of open jump shots in the beginning. [Defensively], we boxed out and didn't allow too many second-chance points. But McLean never gave up."
Both Landry, who averaged nine points and nine rebounds this season and Kavanaugh (12 points per game) earned First Team All-District accolades.
Landry is one of the region's most versatile players.
"She's just a workhorse and she's all over the court," Roberts said of Landry. "She plays forward, but sometimes she has to bring the ball down the court. She is almost always our leading rebounder. She's 5-foot-10 going against girls who are 6-3. She's pretty much our senior leader."
Kavanaugh, meanwhile, has been her team's top scorer this season.
"She's a pure scorer," said Roberts. "She can drive and get the ball in and her outside shot is coming around."
Kyllo was named to the Liberty District's All-Defense team.
"She's a tough little defender," said Roberts. "She's small, but very quick."