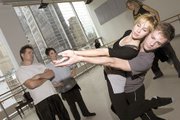 On Saturday, Feb. 28, Dave Parsons Dance will be performing at George Mason University's Center for the Arts. One member of the dance troupe will find that stage very familiar — 2007 Mason graduate Billy Smith.
Here, Smith answers a few questions about the role that dance has played in his life.
<b>Where did you grow up? </b>I grew up in Fredericksburg, Va.
<b>Family. </b>I grew up as an only child with my parents Bill and Linda Smith. I do have half/step siblings. My family has always been very supportive of my passion for performance.
<b>Education. </b>I attended Chancellor High School where I graduated with a 4.2 GPA in 2003. I graduated magna cum laude from George Mason University with a B.F.A. in dance in 2007. Received awards in performance, academics and choreography. I was on full scholarship for academics and dance.
<b>What was your first job. </b>My very first job was in high school. I worked for Riverside Dinner Theatre. I have continued to do work for them since I graduated high school, including choreographing and performing. I have done parts such as Mr. Mistoffelees in "Cats" and Tulsa in "Gypsy." I choreographed "Bye Bye Birdie" and "Peter Pan."
<b>Activities/interest/hobbies. </b>I spend most of my time rehearsing and touring internationally (China, Russia, Denmark, Brazil, Bermuda, Germany, Italy, Switzerland as well as most of the United States) with Parsons Dance. I do work with the Mark Morris Dance Group on occasion. My interests are: mathematical theory, engineering, music and world politics. When I have time off, I like to relax by watching TV with my close companion John — "Dexter" is my favorite show — as well as playing on my computer. My favorite game is "Civilization."
<b>When did you become interested in dancing? </b>My father put me into dance class when I was 7. He wanted me to become a better baseball player and thought that I could improve my coordination through dance. I was hooked immediately. I loved it so much that I had to quit baseball to make time for more dance.
<b>What's the most difficult part about being a dancer? </b>For one, it is really difficult to deal with the expectations that everyone around you holds for you. As a dancer, I feel like I am always wanting to achieve what my director wants out of me or what my fellow dancers believe I can do. Instead of that extroverted focus, I think it is best for dancers to focus on their own goals and be confident in their own judgments and achievements.
<b>What do you enjoy most about dancing? </b>Over the past couple of years, my fellow dancers in Parsons have become a part of my family. We take care of each other and love each other as a close family. When we are on stage together, I dance for them just as much if not more than for the audience. I feel totally alive when I am on stage. I am not living in the past and not worrying about the future. I am in a pure moment of total abandon.
<b>What was your most unusual/memorable performance? </b>Since I have joined Parsons Dance, I have had the opportunity to perform many great roles. My favorite has been the role of Artemis (the "good guy") in David Parsons new opera "Remember Me." It is a visceral and action packed extravaganza that makes the audience beg for more entertainment.
<b>Who's your greatest influence, personally or professionally? </b>My greatest professional influence is a professor who taught me at George Mason University. Her name is Susan Shields. She danced professionally with The White Oak Dance Project as well as Lar Lubovitch and Laura Dean. She taught me the values of determination, clarity of mind and selflessness through dance. Her spirit, talent and vigor will always be very dear to my heart.
<b>Where do you see yourself in 10 years? </b>In this rapidly changing world, life is full of possibilities. Especially in this career, you never know where dance is going to take you. Whether it be choreographing, teaching or going back to school. At this point, I am just enjoying the ride.
More like this story