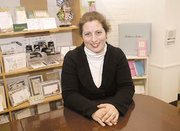 Francesca Trigiani Noone, owner of Notables, Inc., describes her life's journey:
"I grew up in a small town in southwest Virginia called Big Stone Gap. I left there to attend college at Saint Mary's College in Notre Dame, Ind. and moved to Alexandria shortly after graduation. I worked in retail management for several years where I found my love for stationery and the written word. With a business plan in hand and a strategy for a business model that was unique, I searched for the perfect location, but was sidetracked by meeting the man that I would eventually marry. Life took us temporarily into a different place where my idea was put on the back burner.
"Several years later after marrying my husband Tom, and having three children, the opportunity of a lifetime arose. A friend who had a similar shop put her business up for sale ... I contacted her and sealed the deal within a couple of weeks. At the time I was pregnant with my fourth child, but was excited the day that I walked into the store and haven't felt any different since that moment. The move into Old Town was long awaited and comes after building a business that was ready for the next step.
"My husband Tom teaches 7th grade language arts at Saint Mary's School in Old Town, where he fortunately gets to live his passion every day. Our four children all attend school there — Anna Christina is 8, Matthew is 7, Mary Alessandra is 6 and Anthony is 4 and attends the Pre-K program. We have lived just south of Old Town for close to 10 years."
<b>Why did you choose this particular business? </b>
After spending time in retail, I knew that I loved it and was hooked. After working in management in a stationery/party store in Maryland for several years, I knew that it was time to move on. I remember very vividly sitting in the back of the store by myself very early one morning and saying to myself — "what is my favorite part of this job?" From that "ah ha" moment, came the concept for the store that I ultimately wanted to create .... I knew that I wanted to work for myself and I knew that I wanted to do something that made people happy. I couldn't think of a better creative outlet than Notables ... for myself it is a great opportunity to celebrate life's most special occasions with others …. I have learned that nothing comes easily; that you can't ever please all of the people all of the time; and — most importantly, that just because you own your own business, you still have to take the garbage out!
<b>Why did you choose to work for yourself rather than as an employee for someone else?</b>
The "ah ha" moment was a long time coming. Being the product of parents who always owned their own businesses, I knew that would be something that I would ultimately undertake. The "ah ha" moment was one in which the realization hit me quite suddenly. I wanted the opportunity to create a retail environment on my own — and be able to put my mark on it. I yearned for the ability to work with customers on my terms and bend the rules when necessary.
<b>What have you learned from being in business? </b>
Notables is an exclusive stationery boutique specializing in fine stationery for life's occasions. We are unique in the level of service that we offer. We strive to provide our customers with outstanding service and expertise on etiquette and the product that we carry. We are open for appointments daily and strive to accommodate our customer's schedules by requesting appointments for their privacy; and additionally it allows us to provide an environment where they have our complete attention.
<b>Professional affiliations/associations: </b>
Currently, I am a member of the Board of Directors of The Campagna Center; am active at St. Mary's Catholic Church; serve as the president of the Washington DC Alumnae Association for Saint Mary's College; and am a member of Ladies Who Launch.