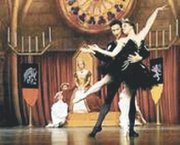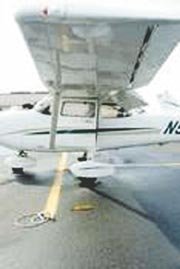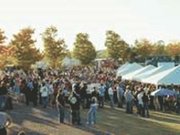 <bt>Throughout the month of January, The Connection will be highlighting 101 ways residents can have fun in and around their community. Mike DiCicco, Justin Fanizzi, Jennifer Lesinski and Rich Sanders worked on this project.
<ro>Safe and Fun Combat
<lst>A.G. Paintball Games
20136 Gant Lane
Leesburg, VA 20175
703-771-3965 (field); 301-417-0137 (office)
www.agpaintballgames.com
<bt>A.G. bills itself as a professionally owned and operated establishment run by people with years of experience. They have one large outdoor compound and several other smaller fields to play on and gun and mask rentals and paintballs and air are also available.
A.G. offers four sessions total per week for walk-ins and those with reservations; a morning session, 9:30 a.m.-12:30 p.m. and evening session, 1:30-4:30 p.m. every Saturday and Sunday. Prices vary by sessions played, equipment rentals and reservation/walk-in status. Visit the Web site for rental prices and reservation information.
<ro>Burn Rubber
<lst>Allsports Grand Prix
45915 Maries Road
Dulles, VA 20166
571-434-9566
www.allsportsgp.com
<bt>Allsports Grand Prix is an indoor karting facility in Northern Virginia with a road-racing profile inspired by the Monaco Grand Prix racetrack. The technical and four-wheel drift turns will challenge even the seasoned driver, yet has a slip/grip track surface that raises drivers� skill levels. At the end of each race, every driver receives a race result sheet, detailing the best lap time, average speed, total race time and more.
Walk-ins are welcome, but Allsports also offers a 40-lap, 11-driver mini Grand Prix, a 120-lap team race and sprint heat races. Leagues for all skill levels are offered as well.
See the Web for kart information, pricing, race format details and more.
<ro>Take Flight
<lst>AV-ED Flight School
Leesburg Executive Airport
1001 Sycolin Road S.E.
Leesburg, VA 20175
703-777-9252
<bt>Believe you can fly? Take a discovery flight at the Leesburg
Executive Airport to see if flying is for you. Discovery flights last 30 minutes and cost between $50 and $70, depending on the type of plane. If you like it, enroll in flight training lessons,
approximately $179 an hour. The Leesburg Executive Airport also offers courses for experienced pilots, including a GPS seminar, multiengine basics and commercial knowledge test prep.
<ro>Get a Bird's-Eye View
<lst>Balloons Unlimited
2946-0 Chain Bridge Road
Oakton, VA 22124
703-281-2300
<bt>Its home office in Oakton, Balloons Unlimited offers ballooning in Middleburg � at Flying Horse Farm � and in the Shenandoah Valley.
Flights are scheduled twice a day, every day, all year round. The price for adults is $175 per person. Children under 16 are $100 when accompanied by an adult. Hours are 10 a.m.-5 p.m. for the winter; 6 a.m.-6:30 p.m. for the summer. Reservations made a couple weeks in advance are recommended.
<ro>Do-si-do
<lst>Bluemont Country Dances
250 South Nursery Ave.
Purcellville, VA 20132
540-338-5025
www.bluemont.org/dances
<bt>Swing your partner round and round at the 100-year-old
Purcellville Skating Rink. Bluemont brings big country bands and line callers to the wooden dance floor. Bluemont Country Dances are held every third Saturday of the month, October through May. The dances begin at 8 p.m., with a beginner's workshop at 7:30 p.m. Admission is $10 per person and $7 for Bluemont Friends, students and seniors.
<ro>Get Lost
<lst>Corn MAiZE
15789 Temple Hall Lane
Leesburg, VA 20176
703-779-9372
www.nvrpa.org
<bt>The corn maze at Temple Hall Farm Regional Park encompasses 11 acres of land and challenges the minds of explorers to find the one exit. It usually takes people between 40 minutes and an hour to make their way through the 10-foot-high walls of corn. It is part of the fall festival from Sept. 8-Oct. 29. Go to the Web site and click on the link to Temple Hall to find out maze schedules, hours of operation and prices.
<ro>Start a Tradition
<lst>Cut Your Own Christmas Tree
Loudoun County Farms
www.loudounfarms.org
<bt>Start a new holiday tradition at one of Loudoun's 19 Christmas tree farms. Badlands, Creekview, Day Star and Great County Farms are a few farms that allow customers the option of cutting down their own Christmas tree. For a complete list of cut-your-own Christmas tree farms, visit the Web site.
<ro>Go Ghostbusting
<lst>Hauntings 2009
16 Loudoun St.
Leesburg, VA 20175
703-777-7427
<bt>A part of the Loudoun Museum's Halloween program, the Leesburg Hauntings ghost tours run Oct. 23-24. Participants will take tours of 18th- and 19th-century homes and hear tales of colonial residents who haunt historic Loudoun. Tours run every 15 minutes and reservations are strongly recommended. The tour is not appropriate for children under 12. Admission is $20 for adults and $15 for museum members.
<ro>Play a Round
<lst>Local Golf Courses
<bt>Hit the links at any one of the county's public golf courses. In Sterling, visit Algonkian Regional Park where 18 holes cost between $26 and $32 and nine holes cost $16 to $20. Ashburn is home to the Brambleton Regional Park and Golf Course where residents can play 18 holes for $30 to $37 and nine holes for $18 to $24. Leesburg has three public courses to play on. The Goose Creek Golf Course allows weekday play for $23 to $40 and weekend play from $30 to $59. The Gary Player-designed Raspberry Falls Golf and Hunt Club offers 18 holes Mondays through Thursdays for between $57 and $78 with nine holes at
$45 and weekend play Fridays through Sundays at $67 to $98 with nine holes costing $55. For something more inexpensive, the Westpark Golf Club green fees run $26 for weekday play and $40 for weekends and holidays.
<ro>Family Fun at the Fair
<lst>Loudoun County Fair
Loudoun County Fairgrounds
P.O. Box 4100
Leesburg, VA 20177
703-777-3835
www.loudouncountyfair.com
<bt>From barbecue dinner to livestock auctions to sidesaddle horse riding to tug-of-war to carnival rides to bingo to a professional rodeo, the Loudoun County Fair is an enjoyable time for all.
The fair will take place this year at the Loudoun County Fairgrounds, from July 26-Aug. 1. A complete list of events can be found on the Web site.
<ro>Follow the Grapevine
<lst>Loudoun Wine Trail
Loudoun County Department of Economic Development
1 Harrison St. S.E.
Fifth floor, P.O. Box 7000
Leesburg, VA 20177
www.loudounfarms.org
<bt>These easily accessible wineries are the primary producers of vinifera and New World grape wines. Families gather here for afternoon lunches and friends spend the day visiting with one another. It is a great place to relax, taste the award-winning wines and take in Loudoun's reputation as being a "Wine Country."
The different wineries include Breaux Vineyards, Chrysalis
Vineyards, Hidden Brook Winery, Hillsborough Vineyards, Lost Creek Winery, Loudoun Valley Vineyards, Swedenburg Estate Vineyards, Tarara Winery, Village Winery, Waterford Vineyards, Willowcroft Farm Vineyards and Windham Winery.
<ro>Taste of Louisiana
<lst>Cajun Festival
Breaux Vineyards
36888 Breaux Vineyards Lane
Hillsboro, VA 20132
800-492-9961
www.BreauxVineyards.com
<bt> Immerse yourself in Cajun culture at the 12th annual Cajun Festival. The festival provides something for all members of the family. Dance to live zydeco and Cajun music or enjoy Cajun cuisine including jambalaya, muffaletta, gumbo, crawfish and wine. There will also be children's activities including clowns, balloon art, face painting and vineyard hayrides.
This year�s event will take place Saturday, June 20, 11 a.m.-6 p.m. Tickets are $15 per person, includes wine tasting and souvenir wine glass, $10 per persons not drinking, free for children under 6.
<ro>Go Back in Time
<lst>Mosby�s Confederacy Tours
183A Keith St.
Warrenton, VA 20186-3231
540-351-6073
www.mosbystours.com
<bt>Go on one of three tours to learn about one of the most fascinating characters of the Civil War, John Singleton Mosby. Go on the "Life and Times" tour to learn about Mosby�s life and see his home, grave, the Mosby Monument and other important sites from his life. Embark on the "Bookends" tour to see many of the important war sites such as Aldie Mill, Red Fox Inn, Sharon Cemetery and other sites that were played important roles in Mosby and his men�s journey. The final option is the "Atrocities of 1864" tour, which shows visitors sites where many of the most terrible events occurred and some of the monuments dedicated to victims of the brutality.
Tours start at $150 per person, $250 total for two and $15 for each additional guest. Register online.
<ro>They Jump Fences, Don�t They?
<lst>Steeplechase at Morven Park
Morven Park International Equestrian Center
41793 Tutt Lane
Leesburg, VA 20176
703-777-2890
www.morvenpark.org/steeplechase
<bt>Steeplechasing includes all the thrills and speed of horse racing at flat tracks, mixing in the precision of jumping to create a hybrid similar to hurdle events in track and field. The races are between two and four miles in length and the fences are manmade 52-inch hurdles called National Fences or timber jumps constructed of posts and rails at varying heights.
Each year, Morven Park is home to a premier national steeplechase event, which will have its 30th installment Oct. 10. More than 10,000 people attend each year to not only watch horses but to enjoy the "Family Fun Fair," where children will find a petting zoo, duck pond, pony rides, moon bounce and more. Vendors will also be on hand for shopping and eating. Visit the Web site for more on the types of races run, the day�s other events and more.
<ro>Celebrate Community
<lst>Sterlingfest
Sterling Community Center
120 Enterprise St.
Sterling, VA 20164
703-450-4365
www.sterlingfoundation.org
<bt>This communitywide event involves arts and crafts, vendors, nonprofit organizations, children's marketplace and game area, an open house at the local fire station and two stages of entertainment. Food and treats will also be available.
The event will be held Saturday, Oct. 10, and is sponsored by the Sterling Foundation, which will use proceeds for the beautification of the community.
<ro>Get Hog Wild
<lst>Hogback Mountain Paintball
20217 Hogback Mountain Road
Leesburg, VA 20175
703-777-0057
www.hogback.net
<bt>With more than 70 acres and 14 unique courses, Hogback Mountain Paintball�s fields are designed for both recreational and pro players. Hogback also offers courses for woodsball, attack and defend, speedball or scenario games.
Hogback Mountain is open 10 a.m. through 5 p.m. every Saturday and Sunday year round for walk-ons. Reservations are available for groups of at least eight and require a deposit. Prices vary by gun rental, paintball purchase and air tank fills.
<ro>Sing to the Music
<lst>Loudoun Chorale
P.O. Box 6197
Leesburg, VA 20178
703-722-4055
www.loudounchorale.org
<bt>The Loudoun Chorale is a community-based arts organization, which presents quality music presentations on a continuing basis. The chorale welcomes all who share the love of vocal music, either as performers or audience members at one of their many concerts around the county. Visit the Web for concert listings and other information.
<ro>Getting in Step
<lst>Loudoun Ballet Company
P.O. Box 916
Leesburg, VA 20178
703-771-1522 (main); 703-771-8074 (ticket line)
www.loudounballet.org
<bt> The Loudoun Ballet Company has a nine-month performing season, September through May. The season typically begins with a children's story ballet; winter brings the full-length ballet, "The Nutcracker" and the season concludes with an annual spring full-length ballet performance. Concert schedule, ticket information, repertoire and more are available online.
<ro>Grand Ole Band
<lst>Loudoun Border Guards Fife & Drum Corps
P.O. Box 1414
Leesburg, VA 20177
703-244-9768
www.lbguards.org
<bt>The Loudoun Border Guards Fife & Drum Corps was founded in 1996 and has performed across the East Coast, including the Kennedy Space Center and New York City. Their uniforms are of an 1855 militia style and every other year, they host a muster in Leesburg where other Fife and Drum Corps from throughout the world are invited to come and perform.
The corps holds its annual membership drive each September, but they accept new members throughout the year. The Junior Corps for children ages 9-18 is also offered. Potential new members can sign up during their regular rehearsals, held Fridays, 7 p.m., at Leesburg United Methodist Church, 107 W. Market St., Leesburg.
<ro>Campus Entertainment
<lst> Northern Virginia College Community Theater
1000 Harry Byrd Highway
Sterling, VA 20164
TAKINGFLIGHT@cct2ft.com
www.cct2ft.com/joomla
<bt>The College Community Theater was formed in 2003 with the mission to entertain, enlighten and educate the diverse community. Productions are produced through the unique collaborative effort of community members as well as NOVA faculty, staff and students. In April 2008, College Community Theater merged with 2nd Flight Productions, which was formed in March 20003 by six recent college graduates in Blacksburg.
The merger was finalized in April 2008 and all productions will now be performed at the Waddell Theater, located on the NOVA Sterling Campus. The company will be performing three shows for the 2008-09 season with the third slot remaining open for guest director applications. Find show times, audition information, to make donations and more on the Web site.
<ro>Go Antiquing
<lst>Historic Leesburg/Antique Shops
Intersection of Business Route 7/Business Route 15
www.leesburgantiques.com
<bt>The Leesburg Antiques and Collectibles Dealers Association
represents more than 120 dealers in the Leesburg area. Member
businesses include the Black Shutter Antique Center, Cobblestones Ltd., Greener Pastures Antiques and Collectibles, the Leesburg Antique Emporium and the Leesburg Court of Shoppes. For an extensive list of shop names, hours and antique
descriptions visit the Web site.
<ro>Take a Ride
<lst>Georges Mill Farm Bed and Breakfast
11867 Georges Mill Road
Lovettsville, VA 20180
540-822-5224
www.georgesmill.com
<bt>Georges Mill consists of a Civil War-era stone home nestled on a 100-acre farm located in the Short Hill Mountains. Enjoy fishing, antique shopping and quiet walks through woodland paths.
Adding to the get-away, bed-and-breakfast feel of Georges Mill, patrons may take guided horseback riding tours at Georges Mill Farm & Stables. Highlights include viewing the gap in the Short Hill Mountains where Virginia and Maryland are joined together by the Potomac River.
<ro>Beer a Plenty
<lst>Northern Virginia Brewfest
Morven Park International Equestrian Center
41793 Tutt Lane
Leesburg, VA 20176
703-923-0800
www.novabrewfest.com
<bt>Start off the summer right with this thirst-quenching event. The equestrian center will host more than 40 breweries from across the world, allowing visitors to sample some of the finest libations from all corners of the globe. Discover how beer is made, how to brew your own and learn about great beer and food pairings.
In addition, live music and entertainment will perform, local restaurants provide the cuisine, artisans will display their works and there is a special area for children.
This year�s event will take place Saturday, June 20, 11 a.m.-9 p.m. and Sunday, June 21, 11 a.m.-7 p.m. Tickets are $25 per adults over 21 and $20 for designated drivers.
<ro>Holiday Fun
<lst>Holiday in the Park
Claude Moore Park/Lanesville Heritage Area
21544 Old Vestal's Gap Road
Sterling, VA 20164
571-258-3700
<bt>Celebrate Christmas in 18th- and 19th-century style. Candlelight tours of the Lanesville House will highlight a Lane family Christmas of the 1780s in one parlor and the 1870s in the second parlor. Enjoy an evening holiday hayride through the park, roast marshmallows, drink hot cider and sing carols at the campfire, visit Frogshackle Nature Center and make an old-fashioned holiday decoration. This year�s event will run Saturday, Dec. 5, 3:30-6 p.m. and is free.
<ro>Reading Wrestlers
<lst>2009 WrestleMania Reading Challenge
Cascades Library
21030 Whitfield Place
Potomac Falls, VA 20165
703-444-3228
www.library.loudoun.gov
<bt>The Cascades Library has many fun activities for all members of the family that encourage reading and learning. An exciting new program for children is the 2009 WrestleMania Reading Challenge. Readers ages 10-18 will be challenged to read 10 books and participate in a bookmark competition. Completing the assigned tasks will qualify participants to win prizes and a trip to Houston for WrestleMania 25. The contest will run Oct. 12-Jan. 12.